With colorful patterns, the scarf Pieu is considered a spiritual god for each Thai ethnic minority girl.
Every ethnic group of Vietnam has its own cultural identity which presents via daily activities, customs, especially costumes. To Thai people, the identity is known for the traditional scarf Pieu.
Since childhood, a girl has been taught by her mother how to weave and embroider a scarf. This is a process of perception and skill training for a girl before she reaches the age of 15 or 16. She has to be skilful enough to make a Khan Pieu herself before getting married because the Khan Pieu is a gift the bride must give to her groom's family. This traditional scarf is very important to Thai people, according to researcher Thiet. "A Khan Phieu is given by the bride to her mother-in-law on the first day of her married life in her husband's house. The girl also makes one for herself. So the Khan Pieu is like a connector of Thai boys and girls".
It takes about two or four weeks to complete a scarf Pieu because Thai girls only embroider it when they have free time. Visitors who have the opportunity to visit a Thai village can see many images of girls meticulously embroidering in front of their houses. Sometimes those images are young girls, mothers with their babies or the elderly. Perhaps in the thought of Thai people, a beautiful scarf Pieu is the standard to evaluate the quality of Thai women; hence, from young children to the elderly, they all may embroider impressive Pieu scarves.
Pieu crarves are associated with Thai girls from their very young age
In the emotional life of the Thai people, the Pieu scarf is a special evidence for in love couples. On occasion of festivals, when a girl throws "còn", any guy who catches that ball, he has to present that girl one or couple of silver rings. And when boys throw balls; if girls miss these balls, they have to present that guy a Pieu scarf. Then, the scarf becomes a reason for them to fall in love. If the girl does not love the guy, she can bring other things to replace her scarf.
According to Luong Van Thiet who works at the Vietnam Museum of Ethnology: "Khan Pieu is a top product of Thai embroidery, reflecting the aesthetic sense of Thai girls. It also demonstrates the Thai outlook on the world and on life. The scarf's patterns feature animals such as deer, butterfly, bird, elephant or tiger, the moon, and trees such as fern. These same patterns are also seen on the hems of Thai costumes".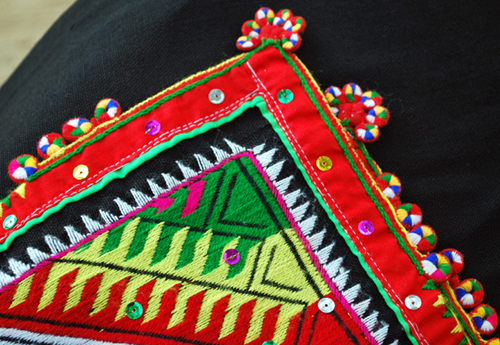 Pieu scarves today become souvenirs for tourists
Vietnam warmly welcomes you to enjoy Vietnamese cuisine and to make your trip in smooth water, turn your plan into real by quick hands to obtain Vietnam visa at http://govietnamvisa.com and for Vietnam eTicket at http://vietnamairlines247.com.
For your memorable travel, it is convenient to book tour at http://govietnamtour.net
For your great stay and nice relaxation after a long trip, it is nothing better than booking hotel at http://govietnamhotel.com
(Visited 276 times, 1 visits today)