Patterns in costumes of Dao ethnic women show skills and rich imagination with artistic use of color to create distinctions.
A costume of Dao people includes: a blouse, a brassiere, leggings, a belt, a kerchief, a skirt with gold or silver jewelry.
White Brassiere of Dao Ho Women
To distinguish Dao Ho women from other Dao ethnic ones, just need to look their unique white brassiere on their costumes. With meticulous patterns of mountains, trees, flowers, square, etc. embroidered on white clothe.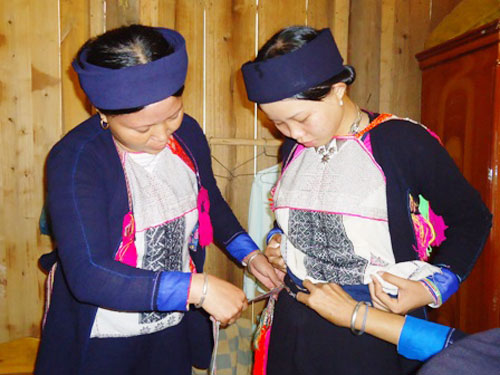 The white brassiere makes the costume of Dao ethnic women more outstanding
Dao Ho people usually embroider patterns in from top to the body of the brassiere. To decorate the brassiere, Dao Ho women attach 3 arrow-shaped silver seeds on the top row. Under the row silver seeds are three 8- petal silver flowers, and circles in the middle symbolize pistils. At the bottom is an 8- wing star that is a highlight on the cloth. There are only two colors of thread used for embroidery: blue and purple highlights on white fabric background.
The Dao Ho women usually wear brassiere instead of vests and dressed with a black cloth outside but not buttoned in order to reveal the pattern on the brassiere, look very outstanding and beautiful indigo blue pattern of the costume.
Costume of Dao Khau ethnic women
Visiting Northwest Vietnam, you'll find simple house, images of women sitting to embroider or weave looms, teach their children and grandchildren embroider types of outfit.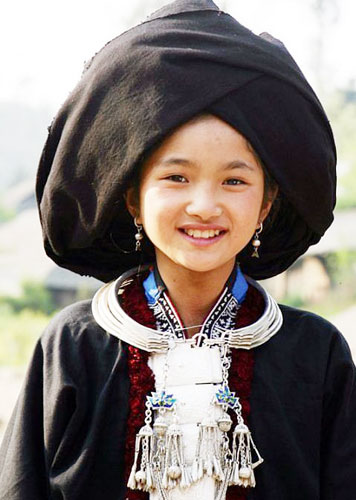 Dao Khau girls
The highlight on the costume of Dao Khau women is a group of 5- 7 silver coins and crimson tassels from neck to waist, very prominent. When stepping, silver coins rattles, which attract other's attention. The highlight on the costume of Dao Khau women is a long indigo blue belt around women's waist. Particularly the pants are colorfully embroidered, with bright patterns, delicate lines and harmonious layout.
In addition, Dao Khau women know to wear the kerchief beautifully. To make the kerchief, Dao Khau women must use 5-7 meter long cloth, wrap to the 3rd round then fold into a triangle.
Vietnam warmly welcomes you to enjoy Vietnamese cuisine and to make your trip in smooth water, turn your plan into real by quick hands to obtain Vietnam visa at http://govietnamvisa.com and for Vietnam eTicket at http://vietnamairlines247.com.
For your memorable travel, it is convenient to book tour at http://govietnamtour.net
For your great stay and nice relaxation after a long trip, it is nothing better than booking hotel at http://govietnamhotel.com
(Visited 147 times, 1 visits today)