Patterns in costumes of Dao ethnic women show skills and rich imagination with artistic use of color to create distinctions.
A costume of Dao people includes: a blouse, a brassiere, leggings, a belt, a kerchief, a skirt with gold or silver jewelry.
Traditional Costumes of Dao Tien women
The Dao Tien women have quite subtle and sophisticated dress, their costumes are often brightly colored with brocade, delicate decorative arts and indigo dyeing technique that is hard to find elsewhere. In Dao communities, Only Dao Tien people wear skirts.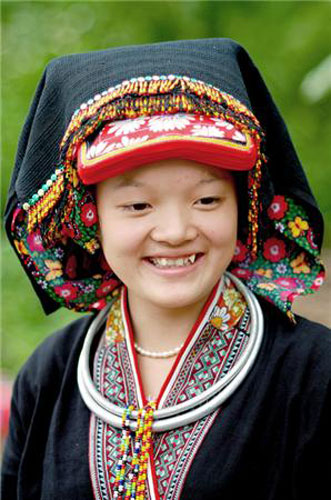 Dao girls can not lack silver jewelries
To create such these eye-catching patterns, they use painting tools to draw flowers, leaves, animals, square shape, etc. After burning wax until melt, they will dip the tip of the brush into melt wax to draw patterns on fabric and then dyed indigo, soaked in hot water to melt the wax. The parts that are drawn with the wax will not be dyed, so they have a very beautiful blue.
Finally is to embroider patterns. A skillful Dao Tien women will know how way to make her work tactile on the fabric. It is very delicate and meticulous.
Brilliant Costume of Dao Do women
Like costumes of other Dao ethnic women including of kerchief, hat, shirt, trousers, belt, etc. but tourist can easily realize the costume of Dao Do ethnic women as their name Dao Do (Red Dao ethnic). To make Dao Do's costume must have 5 fundamental colors but red color is the main color.
With two main colors of black and indigo, their shirts are not cut straight to armpits but matched with the body and collar, decorated with red embroidery. The top of the chest brace is attached with strings of beads and red tassels.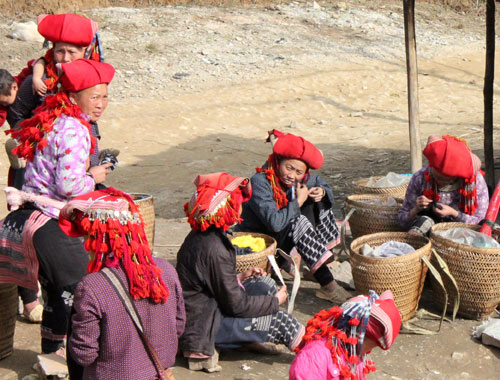 Dao Do women sit together to embroider
Vietnam warmly welcomes you to enjoy Vietnamese cuisine and to make your trip in smooth water, turn your plan into real by quick hands to obtain Vietnam visa at http://govietnamvisa.com and for Vietnam eTicket at http://vietnamairlines247.com.
For your memorable travel, it is convenient to book tour at http://govietnamtour.net
For your great stay and nice relaxation after a long trip, it is nothing better than booking hotel at http://govietnamhotel.com
(Visited 133 times, 1 visits today)