The imperial Hue is a large space, the most important place of the Nguyen Dynasty. Until now the place still reserves ancient cultures with palaces and temples.
People put the first brick for Hue Imperial in 1805 when King Gia Long was reigning the country. It took 30 years to finish the structure. The structure is closed to a square with length of 2.5km, the front side goes along the Huong river. Inside the structure there is a smaller part called the Forbidden palace where the most important buildings of the Dynasty were located.
1.Meridian Gate– The hightlight
The meridian gate located at the south of the structure is the main entrance to Hue Imperial. It's a complex architecture. It has the outlook of a magnificent castle but is still in a harmony with natural scenes. From the gate, stairs made of long stone slabs leads to Five-Phoenix Pavillion.
The Pavillion is an open space where is always cool and windy. Standing at the pavillion we can see all the Imperial.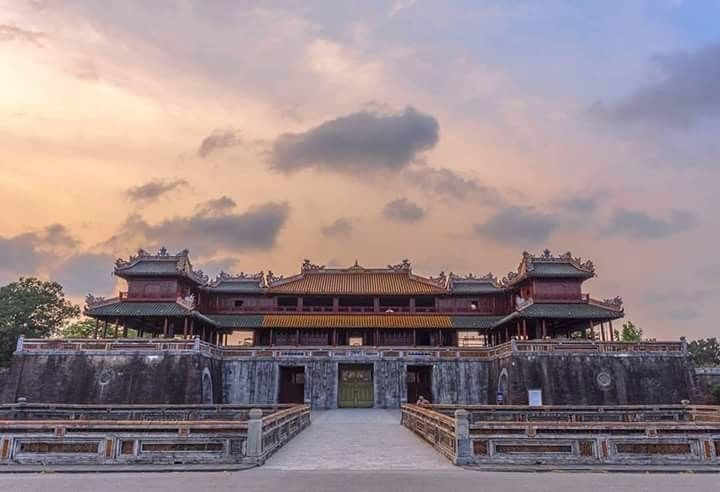 2. Thái Hòa palace –the symbol of Nguyen Dynasty's power
Thai Hoa Palace is located in the Dai Noi Hue area, which was the coronation place of the Dynasty. This is considered the center of the imperial city, also the center of the country, a symbol of power of the Nguyen Dynasty. The palace, along with the court, was used for important imperial court ceremonies.
3. Duyệt Thị hall– the place fornơi thưởng lãm âm nhạc hoàng cung
Duyet Thi hall is located inside the Forbidden City, is a theater for royal family to enjoy traditional music and play performance. This could be considered as the oldest theater in Vietnam theater industry. The place has been restored and use as a theater for visitors nowadays and attracts many tourists.
4. Flag tower – The symbol of the imperial city
The tower is located in the center of the south part, this is where the Dynasty hang the royal flag. The tower is a huge architecture divided into 3 floors.
5. Bao Vinh – The secret old quarter
This name might be a bit strange to tourists but it used to be a busy commercial place of not only the Imperial City but the whole South (also known as Đàng Trong or the Inner land).
The place has around 15 ancient house reserved with the ancient beauty. The house owners are extremely friendly and willing to reveal interesting stories about the old days.
Don't hesitate to pack your luggage, come and discover the amazing land. For more information please visit our family website:
For Vietnam online visa Govietnamvisa.com
For Vietnam local tours: Govietnamtourist.com
For exploring more parts of Vietnam:
http://www.vietnam-online.org/

(Visited 2 times, 1 visits today)