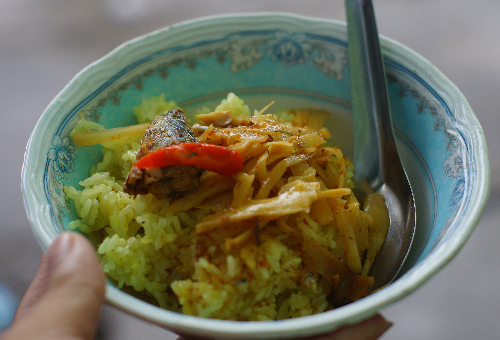 An attractive bowl of bamboo shoot sticky rice with fish and chili
The dish includes simple ingredients: familiar sticky rice and bamboo shoot but it becomes a familiar breakfast meal of each Kon Tum local here.
To those who live and work in Kon Tum, bamboo shoot sticky rice is very familiar but for those who first time visit here, the dish is very strange. Partly, because visitors are familiar with traditional sticky rice such as corn sticky rice, mung bean sticky rice, etc. so when hearing about this dish, they are very curious.
The dish is cooked from sticky rice and fresh bamboo shoot. Therefore, each bowl of bamboo sticky rice looks very simple, just consisting of steamed sticky rice and fried bamboo shoot. Kon Tum locals like chili food so they add some peppers to the dish, not too meticulous but eye-catching and attractive. According to many locals here, the whole Kon Tum city has only two sticky rice eateries: one of a Hue elderly woman and another of her daughter.
The way to make bamboo sticky rice is quite simple and not too meticulous. After fresh bamboo shoots are dug out of the forest, their outer skin will be removed, washed and cut into pieces. Through the pre-processing stage, bamboo will be fried with spices. Glutinous rice is soaked in dilute salt water mixed with turmeric powder about 8 hours, then steamed it.
On mid-month days or vegetarian days, fish is replaced of tofu. Tourists can order bamboo sticky rice with tofu or tofu congee to change their taste. It really attracts visitors because the crunchy taste of fried bamboo, plastic tastes of sticky rice and greasy fish. It is reason why the eateries is usually out of stock at 7 am, if you want to taste the dish, you must wait for tomorrow.
Carrying separate features in the charm of a bit fresh yellow of bamboo shoot which is put above a bowl of sticky rice, the bamboo sticky rice also attracts visitors with its distinct fragrance.
Vietnam warmly welcomes you to enjoy Vietnamese cuisine and to make your trip in smooth water, turn your plan into real by quick hands to obtain Vietnam visa at http://govietnamvisa.com and for Vietnam eTicket at http://vietnamairlines247.com/.
For your memorable travel, it is convenient to book tour at http://govietnamtour.net
For your great stay and nice relaxation after a long trip, it is nothing better than booking hotel at http://govietnamhotel.com
(Visited 161 times, 1 visits today)