Phu Quoc is not only attractive for tourists because of the unspoiled beaches, azure water but also spectacular landscape and great cuisine. It is also the ideal place to enjoy nature's beauty when the sun sets in the evening.
Phu Quoc is where the blue sky meets the sea people can watch both sunrise and sunset. To come to Phu Quoc, you have two options which are by speedboat from Rach Gia or Ha Tien town then after a few hours of sailing, you will be in Phu Quoc.  The alternative way is by plane, you need to take a direct flight from Hanoi, Ho Chi Minh City and Rach Gia to Phu Quoc airport and begin the journey to watch the sunset.
Sunset on beaches
From the beautiful beaches like Bai Khem, Long Beach…are home to many nature lovers each afternoon. Just walking around the coast, feeling the wind blowing and watching the glowing water surface at the twilight. The sun slowly sinking into the ocean making the horizon lit up.
Bai Sao is one of the most famous among Phu Quoc's incredible beaches. You can simply stay on Bai Sao's lovely powdery white sand beach, swimming in its crystal – clear water, and enjoy a seafood lunch at the local restaurant along its shore.
As the day begins to dawn, the normally busy beach still lays barren. Only the tranquil sounds of the calming sea and birds can be heard, which is occasionally interrupted by the barks of a mischievous Phu Quoc dogs, which play along the shore. You are now in the perfect location to rent a boat to snorkel the coral reefs of the smaller inlet of islands a short distance to the south.
Dinh Cau Rocks
Located in a rather special place on a rocky cliff rising towards the sea, this place is full of the brightest rays. Guests will be surprised by visitors will be watching a sunset with faint aroma smoke or maybe just watching the sunset while enjoying a cup of the coffee afternoon – it is not a bad choice for tourists to enjoy sightseeing with quiet space.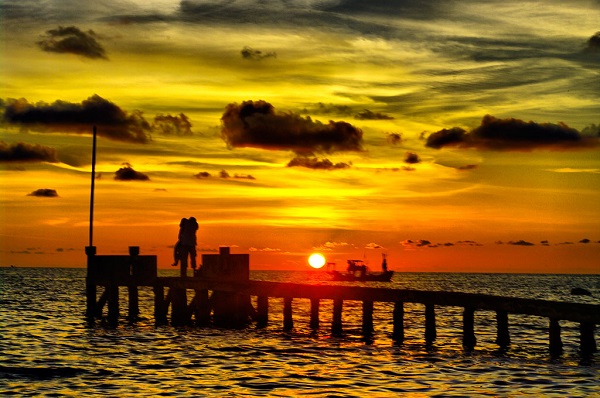 Dam Ngang Island
Dam Ngang is surrounded by spectacular rocks. It has huge rocks, arranged in many unique shapes, including two largest parallel blocks of rock that look very much like a pair of lions lying flanking towards the big island. In order to get to this place on a sunset, tourists should move from early and choose an ideal location to stop the train or canoe. Around 17:30, the sun was like a fiery sphere on the back of a giant "lion pair", which was the moment the lion carried the sun.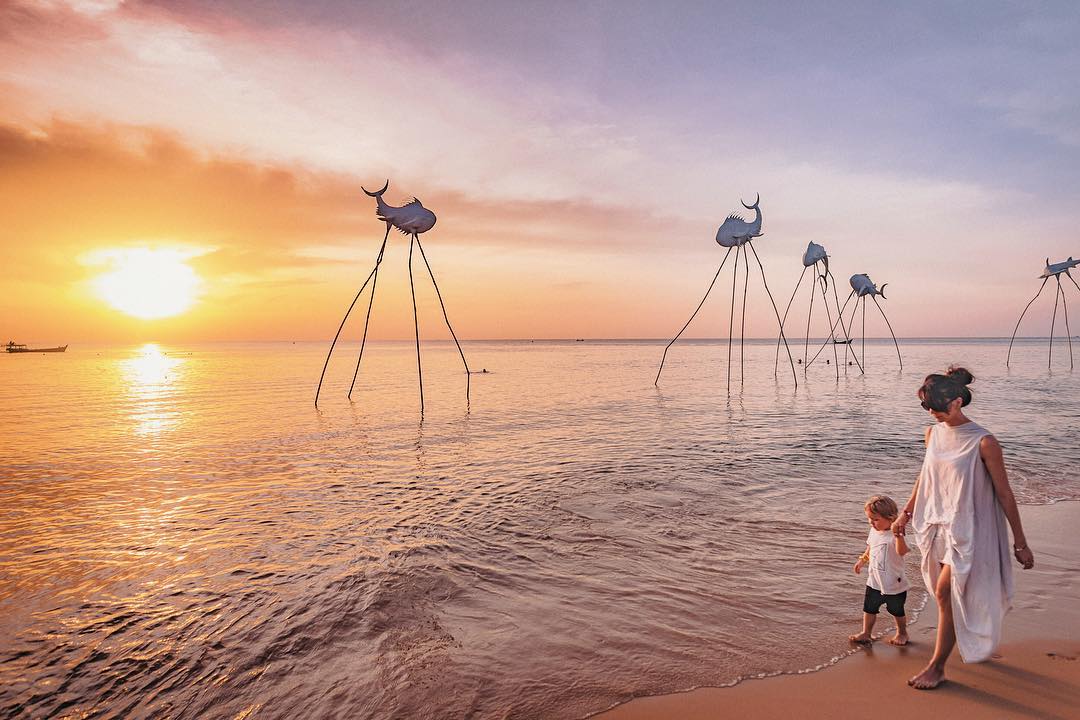 Ben Tau, Ham Ninh
Located on the eastern coast, a twenty-minute motorbike ride from central Duong Dong lies the fishing village of Ham Ninh. Ham Ninh Fishing Village is one of the oldest and most famous fishing villages not only in Phu Quoc but also in Vietnam. This village attracts tourists by its beautiful scenery and delicious specialty.
Although the village itself is quiet and unassuming, it is the area's peculiar bridge that draws tourists and photographers alike.
The bridge, which runs through the center of the village creates a perfect symmetry. While the emerging sun, directly above is perfectly calculated and hardly accidental.
Each element, both man-made and natural combine to creating a vista that photographers can only dream of capturing.
Rory's Beach Bar
Rory's beach club is one of the most popular beach clubs on Phu Quoc. Grab a cocktail, mocktail, beer or whatever and enjoy your time on Phu Quoc! It's located at Long Beach which is just outside of Duong Dong.
Rory's Beach Bar is widely regarded as Phu Quoc Island's quintessential nightlife spot featuring an impressive drinks list, spacious lounge setting, and unbeatable views of the ocean and surrounding islets. Located in Long Beach, this bar is very popular amongst backpackers looking to unwind after a day of exploring Phu Quoc Island. Featuring colorful lanterns, it's fitted with a spacious open-air wooden deck housing communal tables, a pool table, several TVs airing sports events, and a well-stocked bar section. There are also plenty of plastic chairs and beach umbrellas right on the beach.
Enjoy the sunset on the beach in Phu Quoc is one of the pleasures of the tourists coming to Phu Quoc island so don't fail to miss it.
Don't hesitate to pack your luggage, come and discover the amazing land. For more information please visit our family website:
For Vietnam online visa Govietnamvisa.com
For Vietnam local tours: Govietnamtourist.com
For exploring more parts of Vietnam:
http://www.vietnam-online.org/
(Visited 435 times, 1 visits today)