Referring to Vietnamese cuisine, it is impossible not to mention spring roll.

If you have a chance to enjoy this food ,why don't you learn how to make it?
You should prepare the following ingredients :
Rice paper
Pork
Shrimp
Carrot
Cucumber
Green onion, cilantro and mint
Step 1: First you need to prepare vegetables, herbs and wash by water then let them dry
Step 2: Prepare the shrimp
After finishing washing vegetables, turn to shrimp. Shrimp need to be washed, put in 1/2 teaspoon salt, 1-2 tablespoons of wine, 1 teaspoon sugar. This seasoning will make the shrimp rich and not stinking and fishy. Put the pot on the stove, then cover, open the fire to cook red shrimp and do not forget to stir. After that, you take the shrimp out to the basket to dry, then peel, split the shrimp and remove the back of the shrimp, then arrange on a plate to prepare for the next delicious food.
Step 3: Prepare the meat
Boil the pot of water, drop into a crushed onion and boil the meat for about 20 minutes. Pick out a bowl of cold water with ice cubes to make the white and crispy meat better. Then you slice the meat into thin slices and put on a plate for later use as spring rolls.
Step 4: Prepare the roll
Dipping the rice paper into water to soften it . After you wet the rice paper, line the vegetables underneath and arrange the noodles, meat, shrimp, with shallots, herbs and then roll to make sure your hands are okay. Just like that you make this delicious package until the end of the ingredients.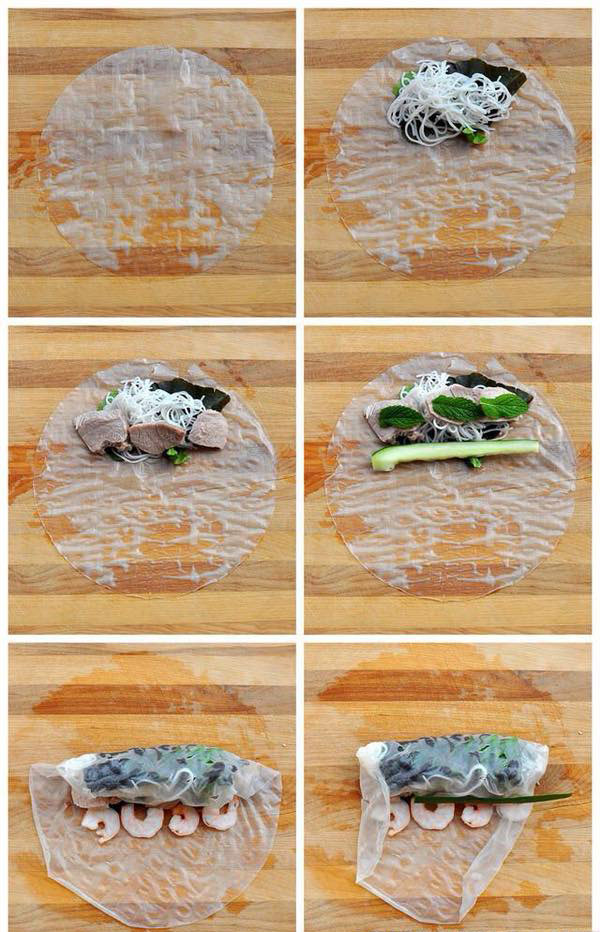 Last but not least, making the fish sauce. In a large bowl, combine sugar, fish sauce, and water. Squeeze in lime juice. Stir well until dissolved. Then add minced garlic and minced Thai chili. Stir for a few times. This is one of the most important part that decides the flavor of Spring rolls
If you love Vietnamese cuisine , don't hesitate to book tour at http://govietnamtourist.com.and obtain Vietnam visa at http://govietnamvisa.com .( If required)
For your great stay and nice relaxation after a long trip, it is nothing better than booking hotel at http://govietnamhotel.com
(Visited 2,381 times, 1 visits today)