Banh xeo as known as crispy Vietnamese pancake, crepe or sizzling cake – is a famous street food that is widely believed to originate from France during its occupation of Vietnam.
Vietnamese Pancake is a half-round shaped crepe made from rice flour mixed with turmeric powder, chopped green onion… Most of the tourists know about crispy crepe of Banh Xeo but many Vietnamese people like eating Banh Xeo with tough crepe. The fillings are usually made from shrimp, bean sprouts and pork belly.
Vietnamese Pancake is a special cake that must be tested by 5 senses. The eyes are used to see how it's made and its beautiful yellow color when it's ready. The cook must be patient because he has to sit or stand to make one by one Vietnamese Pancake by a big pan on the fire. Firstly he spreads oil over the pan before pouring the battle into the pan. Then he covers the lid and waits for a "sizz" sound which tells him that it's ready to be got out. Now you use your ears to listen to the attractive sound "sizz". Don't forget to smell when the cook opens the lid. The crepe is served on a plate with assorted herbs, pickled carrot and dipping fish sauce. The dinner will use his fingers to wrap a piece of Banh Xeo and fillings in rice paper or bean leaf with other herbs. It's time to dip the roll in the fish sauce dip and tuck in. You will use your tongue to feel the amazing taste of this food.
Although Vietnamese Pancake originated in South Vietnam, this flavorful pancake has won the hearts of all Vietnamese people. The receipt has been changed to meet local taste is the reason we have many kinds of Vietnamese Pancake.
South Vietnam is fried in a big pan so that the crepe's diameter is about 40 centimeters. Coconut milk is used to make the crepe greasier. The crepe is crispy outside and tough inside. Mekong Delta is full of fresh veggies, including smelling herbs which are eaten with Banh Xeo. The fillings are usually made from shrimp, mushroom, bean sprouts, green bean paste, and pork belly.
Central Style Vietnamese Pancake is as big as the human hand and very crispy. To make it, the cook uses a special small pan that you can see in the photo. The fillings are simple with shrimp, mushroom, bean sprouts, and pork belly. Besides assorted herbs, this kind of Vietnamese Pancake is eaten with sliced star fruit.
Vietnamese Pancake in Hue is called Banh Khoai – one of the most popular specialty foods of this region. Banh Khoai is small and crispy. It's similar to Central Style Vietnamese Pancake and usually eaten with grilled pork and glutinous soup made from liver, peanut, pork and other secret ingredients.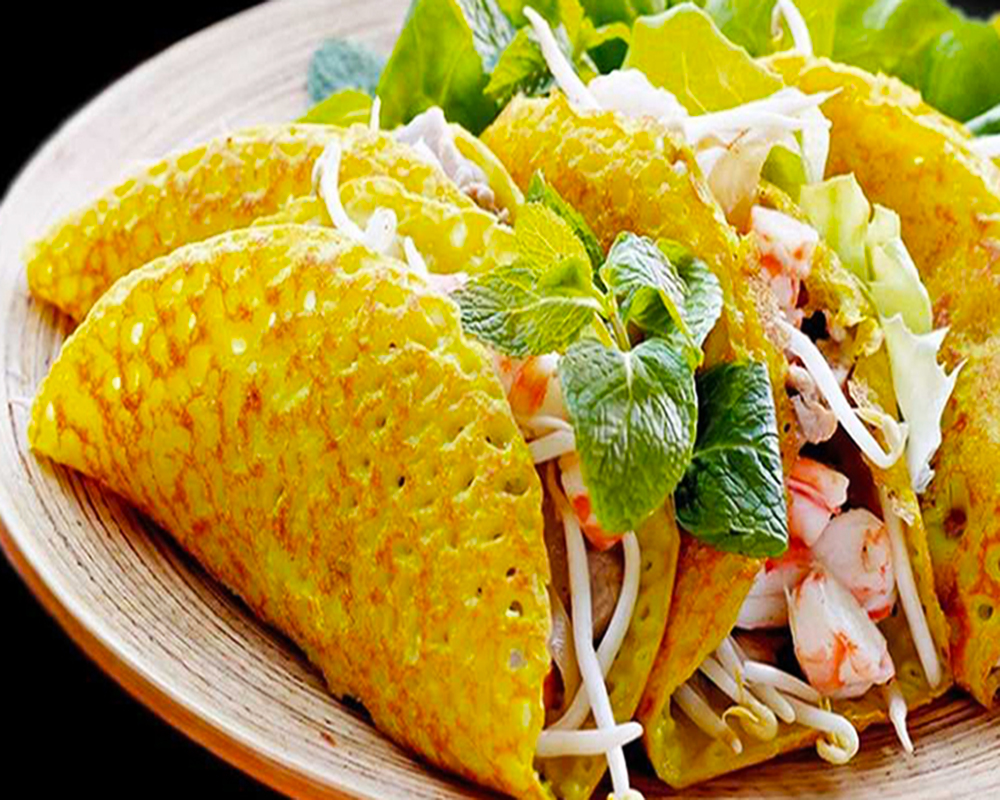 Besides usual ingredients to make fillings of Vietnamese Pancake, Northern people use shredded jicama or taro.
In recent days, life in big cities like Ho Chi Minh has become more and more modern. Many Vietnamese Pancake's receipts appear to meet the day by day changed the taste of locals. You can see a long menu of Banh Xeo at Banh Xeo restaurants or food stalls.
Don't hesitate to pack your luggage, come, and discover the amazing land. For more information please visit our family website:
For Vietnam online visa Govietnamvisa.com
For Vietnam local tours: Govietnamtourist.com
For exploring more parts of Vietnam:
http://www.vietnam-online.org/
(Visited 385 times, 1 visits today)