Not only dishes of salads or frying, can cactus be processed into different dishes that attract those who has stepped his foot on Quang Nam land.
Cactus is a prickly plant, usually grows in some areas with dry climates; hence it appears pretty much in Central Vietnam, especially in Quang Nam land which deals with sun and wind all year round. Here, cactus is a popular dish and considered a regional specialty. The dish has available materials, attraction due to distinct flavor and not too sophisticated processing.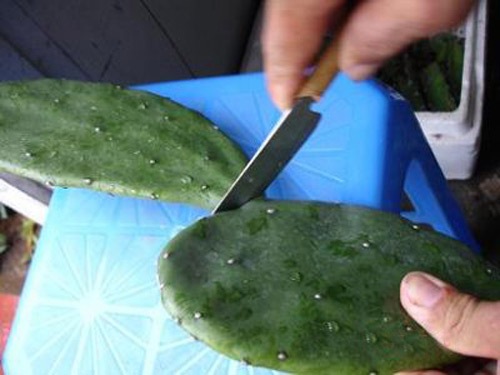 Cactus's pricks are removed before being processed
Before being processed, cacti need subjecting to preliminary treatment by removing pricks outside green cover, then slice into thin pieces, quickly boiled to reduce viscosity until cactus piece turn into yellow. Then squeeze cactus pieces to process into different favorite dishes.
The most popular dish in Quang Nam province is fried cactus dish. After being squeezed, cactus pieces are fried with oil, added seasonings, a little fish sauce. Depending on customers' requirement, the dish is served with other materials such as: pepper, shrimp, or pork meat, etc.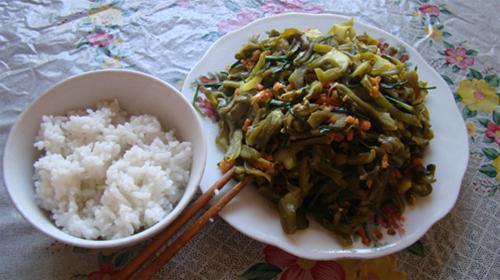 The fried cactus is very suitable with rice meal.
On hot summer days, cactus sour soup is an effective dish to reduce heat. Beside quickly processed cactus pieces, snakehead fish or catfish is cut into pieces, and then added with spices. Next, quickly fry cactus pieces with marinated fish pieces and added a little water. Left the soup pot soil about 3 minutes and then add fresh onion leaves. Despite not added with any sour fruits, the cactus soup still has sour flavor and drives the heat of summer away. The sour flavor is not as acid as lemon or dracontomelon, the toughness of cacti, deep sweetness of fish meat and served with rice, it is really hard to resist.
Apart from the cactus sour soup and fried cactus, Quang locals also create another unique dish called cactus salad. It is still boiled cactus pieces but mixed with roasted peanut. The salad is usually prepared for fishermen or guests.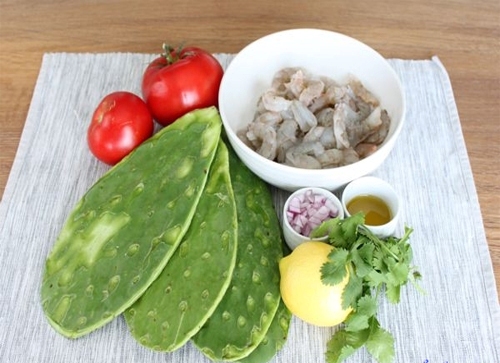 Cacti are varied into different dishes
In the past, cacti are the dish help Quang Nam people come over hungry, but when the life is better, the dish quickly becomes a strange dish, a specialty for visitors. If you have chance to visit the land full of sun and wind, let's try tasting the unique cactus dishes.
Vietnam warmly welcomes you to enjoy Vietnamese cuisine and to make your trip in smooth water, turn your plan into real by quick hands to obtain Vietnam visa at http://govietnamvisa.com and for Vietnam eTicket at http://vietnamairlines247.com.
For your memorable travel, it is convenient to book tour at http://govietnamtour.net
For your great stay and nice relaxation after a long trip, it is nothing better than booking hotel at http://govietnamhotel.com
(Visited 237 times, 1 visits today)