Difficult To Resist Baked Rice Cake Flavor- "Pizza" Da Lat. Da Lat is originally explored by French people; hence, it is not hard to understand Da Lat cuisine is more or less affected with the taste of Western cuisine. Baked rice cake is one of the attractive snacks.
However, Da Lat people cleverly combine local materials to turn this rustic dishes become delicious pizzas, specific flavor of the city of thousands of flowers.
It is called Da Lat pizza because at first glance, its appearance and coated materials look like a pizza. The backed rice cake in the base makes a difference namely Da Lat pizza, tourists only taste once and remember forever.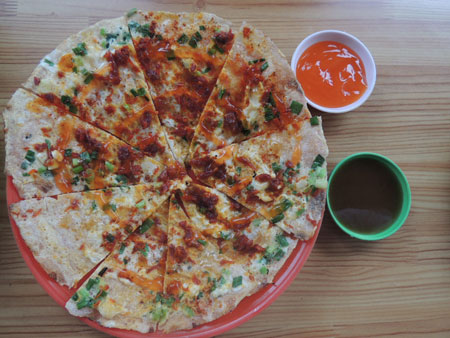 Baked rice cake is called pizza Da Lat by tourists
Baked rice cake cannot be found in luxurious restaurants, but when you walk on narrow alleys, night markets, you may find this delicious dish. Familiar image is a steaming charcoal fire, chicken eggs, quail eggs and fragrant scent on the wind hold visitors to stop tasting.
Baked rice cake consists of familiar ingredients like onion, scallions, satay, shrimp sauce, minced meat, cheese, dried beef, chicken or quail eggs and indispensable rice cake.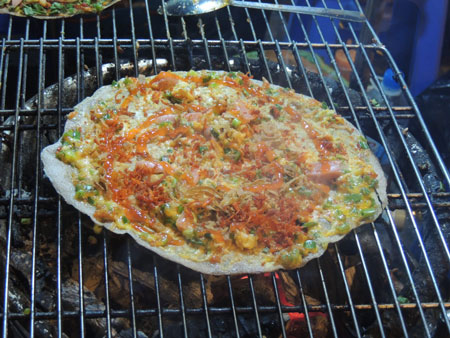 There are many different flavors: chicken eggs, quail eggs, cheese, dried beef, etc.
Recipes are also quite simple. Rice paper is placed on a charcoal fire, when it meets medium heat, smash chicken eggs or quail eggs and mix with green onion and minced meat, then brush all surfaces of the cake. When the cake turns into yellow, add a little beef and spices on the surface of the cake, depending on customer requirements which may roll or spread it.
Diners can therefore cut into small pieces as pizza or roll it and then enjoy it with chili sauce.
Just wait 3-5 minutes, diners have hot and fragrant cakes on hand. It is hard to resist the attractive flavor of baked rice cake Da Lat. It is harmonic combination of the sweetness of eggs, fatty aroma of onion, tasty flavor of shrimp sauce, and crispy rice paper.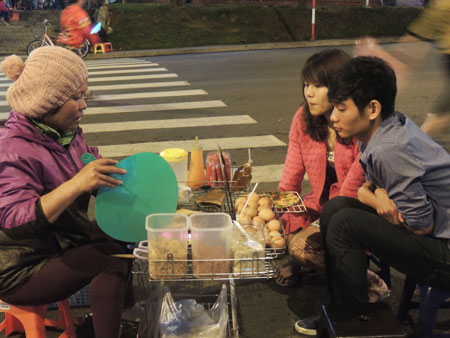 Baked rice cake is special dish of Da Lat
Unlike other dishes that can be enjoyed at any time of the day, this dish is sold from 3 pm to late night, when the cold wind occurs and dew cover streets, the cake flavor becomes more attractive.
Each baked rice cake costs VND 8,000-14,000, depending on the request of customers for more eggs, cheese or beef.
Vietnam warmly welcomes you to enjoy Vietnamese cuisine and to make your trip in smooth water, turn your plan into real by quick hands to obtain Vietnam visa at http://govietnamvisa.com and for Vietnam eTicket at http://vietnamairlines247.com.
For your memorable travel, it is convenient to book tour at http://govietnamtour.net
(Visited 413 times, 1 visits today)