Wonder List has announced 10 world most beautiful waterfalls. In which Ban Gioc waterfall of Vietnam is ranked eighth. Ban Gioc One Of Ten World Most Beautiful Waterfalls. 
​1. Iguazu (Argentina)
Iguazu was discovered by the Spanish in 1541. It lies on the border between Argentina and Brazil. Iguazu is not the biggest, nor the deepest, but it is the most beautiful waterfall of the world. The fast-flowing waters and fascinating cliffs created a wonder with great beauty.
Related: Ban Gioc Waterfall On Top World Most Majestic Waterfall
Victoria (Zambia)
Victoria is twice as large as Niagara. That should be enough to see the grandeur of Victoria. It is still considered the largest waterfall in the world. Victoria is the waterfall that has made a name of the African country of Zambia.
Niagara (America)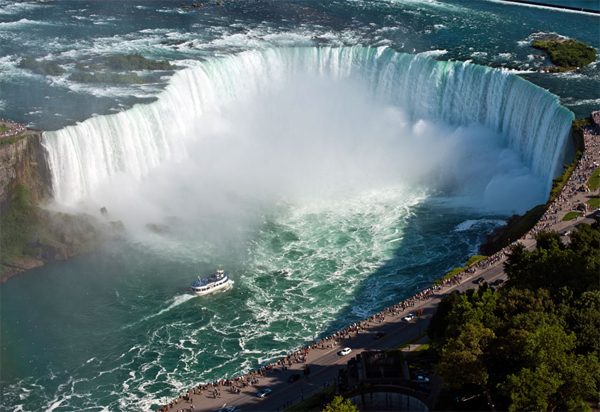 Niagara is always crowded with tourists
Niagara is a complex of fast- flowing waterfalls. Niagara is very large and majestic. Every year, there are 14 million tourists visiting this waterfall.
The Angel (Venezuela)
As its name, The Angle looks as an angle. It may not be scary like Kaieteur, not fast- flowing like Vinnufossen but The Angel is number one in terms of height. This is a waterfall with the highest continuous flow in the world with a height of nearly 1 km (979 m). Because of such this height, around The Angel always had a lot mist.
Kaieteur (Guyana)
With a height of only 226 m but Kaieteur becomes a terror to those who want to conquer it. Because Kaieteur waterfall has the most powerful flow in the world (663 m3 per second).
Vinnufossen (Norway)
Vinnufossen is really a masterpiece of European. This is the highest waterfall on this continent. With many cliffs, plus the fast-flowing of Vinnu river, currents here become extremely aggressive. But it does make for an imposing beauty. Vinnufossen become a leisure attraction of Norway.
Blue Nile (Ethiopia)
White water currents partly reflect the grandeur of Blue Nile waterfall. This waterfall is one of the most attractive tourist spots of Ethiopia.
Ban Gioc (Vietnam)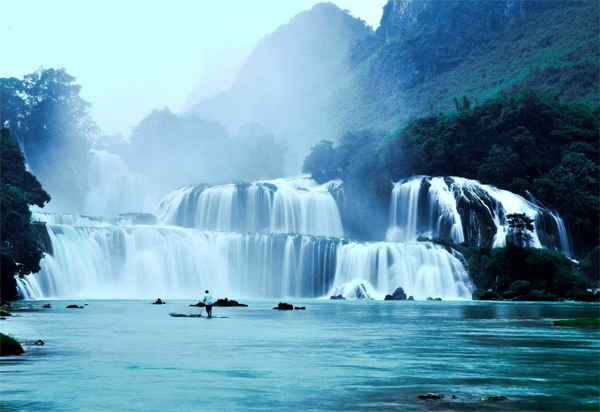 Ban Gioc waterfall is must-visit destination in Cao Bang
Ban Gioc waterfall is located in Cao Bang province, 272 km from Hanoi capital. The attraction of Ban Gioc is in beauty and spectacular. Indeed, Ban Gioc waterfall is the 4th largest border waterfall in the world after the Niagara, Victoria and Iguazu. The waterdall has many levels with an exciting and echo sound of water.
Gullfoss (Iceland)
This is the most beautiful and majestic waterfall of Iceland. Gullfoss name in the local language means "gold". Gullfoss is more famous because it is a double waterfall.
Jog Falls (India)
It is 253 m high waterfall, the second highest in India. Jog Falls is formed by the famous river Sharavathi. Jog Falls attracts visitors in the huge, especially when the fall is only revealed when the dry season comes. Because on rainy season, when the water rises, Jog Falls almost disappears.
Vietnam warmly welcomes you to enjoy Vietnamese cuisine and to make your trip in smooth water, turn your plan into real by quick hands to obtain Vietnam visa at http://govietnamvisa.com and for Vietnam eTicket at http://vietnamairlines247.com.
For your memorable travel, it is convenient to book tour at http://govietnamtour.net
(Visited 309 times, 1 visits today)