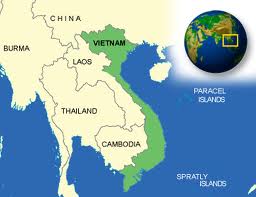 Welcome all of you to Vietnam – the most beautiful countries located in the South East Asia, the latest Asian dragon awaking from its slumber! Owning to stretching the length of the Indochinese Peninsula, Vietnam boasts a unique shape of an elongated S and a long coastline of 3,444km (2,140 miles) with a lot of wonderful sites that absorb more and more visitors from all over the world.
Vietnam has latitudes between 8° and 24°N; and longitudes between 102° and 110°E. The wide latitude contributes to the long borderline with China in the North, and the stretch of longitude makes Vietnam neighbor of Cambodia and Laos in the West. This stretching longitude also gives Vietnam the borderlines with the Gulf of Thailand in the South West, the East and the South with the East Sea (Vietnamese saying), and with the Gulf of Tonkin in the East. Total landline of Vietnam with those three countries (China, Laos, and Cambodia) is 4,639km. Moreover, this stretching creates the S-shape for the country with the distance of about 1,650km from the North to the South, and brings it a long coastline of 3,260km excluding that of islands and peninsulas, that owns many world-widely famous beaches as well as islands and peninsulas.
TERRAIN & AREA
Total area of Vietnam is 329,560 km² including 325,360 km² for and 4,200 km² for water and sea;
Vietnam's terrain is much diversified, including mountains and hills, deltas and plains, coastline and beaches, and continental shelves. The topography is lower and lower from the Northwest – Southeast. Mountains cover up to 75% of the country's territory, though mostly low mountains. Deltas only account for a quarter of the land area, and are separated by mountains and hills;
The highest mountain of Vietnam is Fansipan that is located in Lao Cai in the North of Vietnam, and is at 3,143m height. The lowest point is the East Sea with height equal to sea level.
TIMEZONE AND BUSINESS HOUR
Standard time zone: UTC/GMT + 7 hours
Government Offices: Open Monday to Friday from 7.30 am to 4.30 pm
Working hours: 8 hours a day from 7.30 am to 4.30 pm (summer time); or 8.00 am to 5.00 pm (wintertime). Saturday and Sunday are weekend and day-offs.
POPULATION AND LANGUAGE
Estimated population of Vietnam up to July 2011: 90,549,390. This number gives Vietnam the rank 14th in the world in the field of population.
The official language is Vietnamese and it is used as the mother tongue by 90% of the country's population.
POLITICAL AND GOVERNMENT
Government type: Communist state;
Legislative branch is unicameral National Assembly. There are 500 seats, and members are elected by popular vote to serve five-year term;
Judicial branch is Supreme People's Court which chief justice is elected by the National Assembly on the recommendation of the president for a five-year term;
Political party is the Communist Party of Vietnam (CPV); other parties proscribed.
RELIGION
Although the majority of Vietnamese people define themselves as non-religious, about 60% to 70% of them believe in Buddhist and often visit temples and pagodas at least several times a year,
Apart from the triple religion, including Mahayana Buddhism, Confucianism and Taoism, there are some significant minorities such as Roman Catholicism, Cao Dai, Hoa Hao, Hinduism, Islam, Protestantism, and Theravada Buddhism.
ECONOMY AND CURRENCY
The economy of Vietnam now is a developing planned-market economy. Through "Đổi Mới" reform period (started in the mid-1980s), Vietnam has made a shift from a highly centralized planned economy to a socialist-oriented market economy which use both directive and indicative planning. Over that period, the economy has experienced rapid and dramatic growth. Nowadays, Vietnam is in the period of integrating into the world's economy, as part of globalization. Vietnam has been rising as a leading agricultural exporter and an attractive foreign investment destination in Southeast Asia;
In 2010, the nominal GDP reached $104.6 billion, with nominal GDP per capital of $1,218;
Vietnam has been grouped into the list of eleven countries which have high potential of becoming the world's largest economies in the 21st century;
The currency of Vietnam is Vietnam Dong (VND). Foreign currencies such as USD, Euro, CHF are often used in trading and business with oversea companies
NATIONAL PUBLIC HOLIDAYS
Jan 01
International New Year Day
Mid Feb
Lunar New Year
Mid Apr
Country Anniversary of the first King
Apr 30
Liberation Day
May 1
Labor Day (May Day)
Sep 2
National Da

y
Besides those public holidays, Vietnamese people often have around 5 to 7 days off when the new Lunar year comes. This chance of holiday is often in late January to end of February. Moreover, it is the most welcome and awaiting holidays for Vietnamese people, especially young children.
————————————————————-
Need a Vietnam visa?  Click Apply for Vietnam visa online for Vietnam visa application
If you have any queries about Vietnam vacations or Vietnam visa, kindly contact us at support@govietnamvisa.com or hotline +84.936.600.886 or +84.946.762.224 for free guide.
(Visited 1,762 times, 1 visits today)