It must be a mistake if you do not visit Nho Que river in your trip to Ha Giang. The river starts in Yunnan, China and comes to meet the land of Vietnam at Seo Lung village, Lung Cu commune of Ha Giang province to continue its journey to other places. However, the most stunning landscape of the river in Vietnam belongs to its starting points where there is Tu San alley.
Long before Nho Que river was not as peaceful as it is today and the local people only saw it as a place for fishing and a source of water for culturing and daily life. However, dams were built, the flow became more tender, eventually local people started rowing service for tourists, turning the river into a place of interest and now tourist have chances to admire the deepest alley in the entire Southest Asia-the Tu San alley.
Explore the spectacular landscape from Ma Pi Leng pass
To catch the panoramic landscape of Nho Que river, tourists should stop at Ma Pi Leng pass, a famous dangerous pass with one side is craggy cliffs, another side is an abyss and covered by fog all year long. Despite its danger, the journey to conquer it is really worthy as the view towards Nho Que river from the peak of the pass is so spectacular. Among the vast area of green forest and mountains, there lies an emerald river as a green thread curving along cliffs. In the late spring, bombox ceiba fully bloom at 2 sides of the river as brilliant red as twinkle sparks lightening the forest.
If you have a bit more time, spend rowing on the river itself as it's a different experience that you would never forget. Sitting on a board, you can inhale the pure air of Northwest's nature and admire the majestic steep cliffs that grow as if they touched the sky. Also, at the same time you'll feel the cool from the river and the continuous changes in the scenery through every part of the river.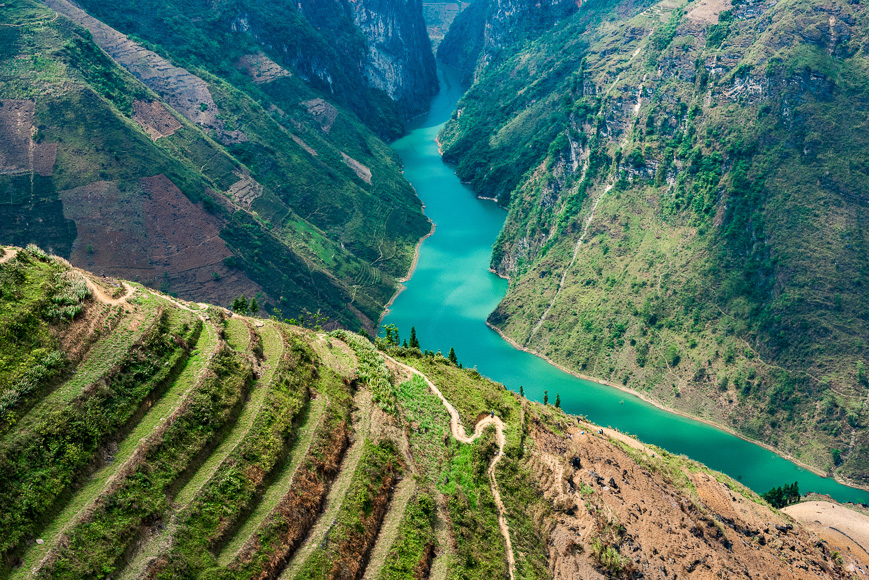 For Vietnam online visa Govietnamvisa.com
For Vietnam local tours: Govietnamtourist.com
For exploring more parts of Vietnam:
http://www.vietnam-online.org/
(Visited 170 times, 1 visits today)