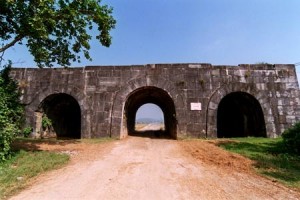 The citadel of the Ho dynasty is located in Vinh Tien commune, Vinh Long commune, Vinh Quang commune, Vinh Yen commune, Vinh Phuc commune, Vinh Ninh commune, Vinh Khang commune, Vinh Thanh commune and Vinh Loc town, Vinh Loc district, Thanh Hoa province. This was capital of Vietnam from 1398 to 1407.
The citadel of the Ho dynasty was built by Ho Quy Ly in 1397, at that time; he was a general under Tran dynasty. When the citadel was completed, Ho Quy Ly forced the King Thuan Tong leave Thang Long citadel (Hanoi) to Thanh Hoa. On February, 1400, Ho Quy Ly became the king and named the country Dai Ngu (1400-1407), the citadel of Ho dynasty officially was the capital of Vietnam. The citadel has other names: An Ton citadel, Tay Do citadel, Tay Kinh citadel, Tay Nhai citadel, and Tay Giai citadel.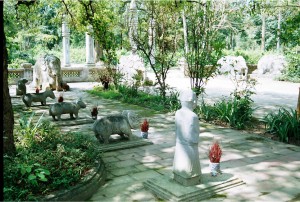 The citadel is considered as the only stone citadel in Southeast Asia and one of the few remaining in the world. On June 27, 2011, in Paris (France), The Citadel was inscribed on UNESCO World Heritage Sites.
The citadel met two criteria regulated in The World Heritage Convention in 2008. The criteria required that it has to show important exchange of humanity values through a period or in a world cultural area in terms of developing architecture, technique, sculptural art, city master planning or landscape design and in 4th criteria required it must be a highlight example of construction, architectural complex or technique or landscape in one or many historical periods of human being.
In the document of the World Heritage, the citadel is described a wonderful construction in terms of technique, large stone building art, and combination of traditional construction second to none in Vietnam, East Asia area and Southeast Asia in the period of late 14th century, early 15th century. Thanks to unique building technique, using sustainable materials and especially big stone blocks, the citadel has been well preserved in nature. This is one of few citadel relics in Southeast Asia which has not influenced by urbanization; landscape surrounding and architectural scale have been preserved both on ground and underground.
According to ancient document, the historical complex of the citadel has Thanh Noi, Hao Thanh, La Thanh and Dan Te Nam Giao.
Entrance Ticket:
– Adult: 10,000 VND/ person
– Children from 10 to 15 years old: 5,000 VND/person
Vietnam warmly welcomes you to enjoy Vietnamese cuisine and to make your trip in smooth water, turn your plan into real by quick hands to obtain Vietnam visa at http://govietnamvisa.com and for Vietnam eTicket at http://vietnamairlines247.com.
For your memorable travel, it is convenient to book tour at http://govietnamtour.net
For your great stay and nice relaxation after a long trip, it is nothing better than booking hotel at http://govietnamhotel.com
(Visited 156 times, 1 visits today)