The best Da Lat dishes are made with fresh produce and meat is sourced from ethnic farms around the hill town. Blessed with a cool central highland climate, just about anything can be grown there, not just tropical vegetables and fruits. Some of the best foods here include strawberries, asparagus, artichokes, grapes, tea, and coffee.
Bánh Căn Dalat
In Vietnam, Bánh Căn is a specialty in Nha Trang, Phan Rang, and Dalat. Bánh Căn in the coastal areas have crust is made from mixed rice flour with egg yolk, added shrimp, sliced pork, or seafood above. A meal is served with raw vegetables and sweet and sour fish sauce. Differently from Nha Trang and Phan Rang, Bánh Căn in Dalat city is processed more simply with the unique sauce that raises an unforgettable taste. To elaborate, let's see what we have with the one in the Dalat food menu.
2. Salad Dalat
Salad is obviously something you can get literally anywhere. But if you're looking for the best, then Dalat is where it's at. As the soil and climate in Da Lat are perfect for growing temperate plants and vegetables, such as salad leaves and tomato, you will get the best ingredients here.
Locals usually eat this daily. When you go to any shop or restaurant that sells rice, they will always give you a free dish of salad as a side-just like kimchi in Korea! A simple salad can have your typical ingredients such as lettuce, tomato, cucumber, onions, half-boiled eggs, and comes seasoned with vinegar. You can also add some beef or other meat in some places. Last but not least, if you have always dreamt of sitting in a huge fridge while eating greens, Da Lat is "the fridge" that you are looking for. Granted it's not as cold as other places in the world, but it is cold for Vietnam!
Nem nuong is fermented pork roll that's served with dipping sauce, pickled green papaya, and raw herbs. It's typically grilled over a charcoal stove, resulting in a smoky flavor. Enjoy it like the locals by wrapping all of the ingredients into a piece of rice paper before dipping it into the sauce, which is made with fish sauce, ground liver, prawn, pork, and peanuts. A generous platter of Nem nuong costs about VND 40,000 at a sit-down restaurant in Da Lat.
4. Bánh Mỳ Xíu Mại – Vietnamese Baguette with Meatball Soup.
Bánh mỳ is typically a crispy baguette with a variety of fillings. When you're in Da Lat, it's actually a bowl of meatballs that are served with bread on the side. These flavourful meatballs are made with minced mushroom, onion, garlic, ground pork, and local spices, before being cooked in a hearty tomato-based broth. Priced between 10,000 and 20,000, we highly recommend enjoying bánh mỳ xíu mại in the morning as it's a light yet warming way to start the day.
5. Bánh Canh – Noodle soup
Bánh Canh is a hearty noodle soup made with simmered pork meat and bones. Well-loved for its warming properties, this dish typically comes with a generous amount of thick tapioca rice noodles, green onions, cilantro, and pork slices. You can also enjoy it with quail eggs, fried spring rolls, fish cakes, or fish ball if you're not a fan of pork. As with most dishes in Vietnam, a platter of fresh greens is served on the side.
6. Bánh Xèo Dalat – Pancake
The Da Lat version is still a yellow cake batter that is fried in the pan, but the size is much smaller while the crust is thicker and crispier. When you bite it, the cake will melt in your mouth. The greasy taste of bánh xèo is neutralized by the freshness of vegetables so that it's hard to stop eating more and more. If you are addicted to the wrap and roll cuisine of Vietnam, bánh xèo is for you.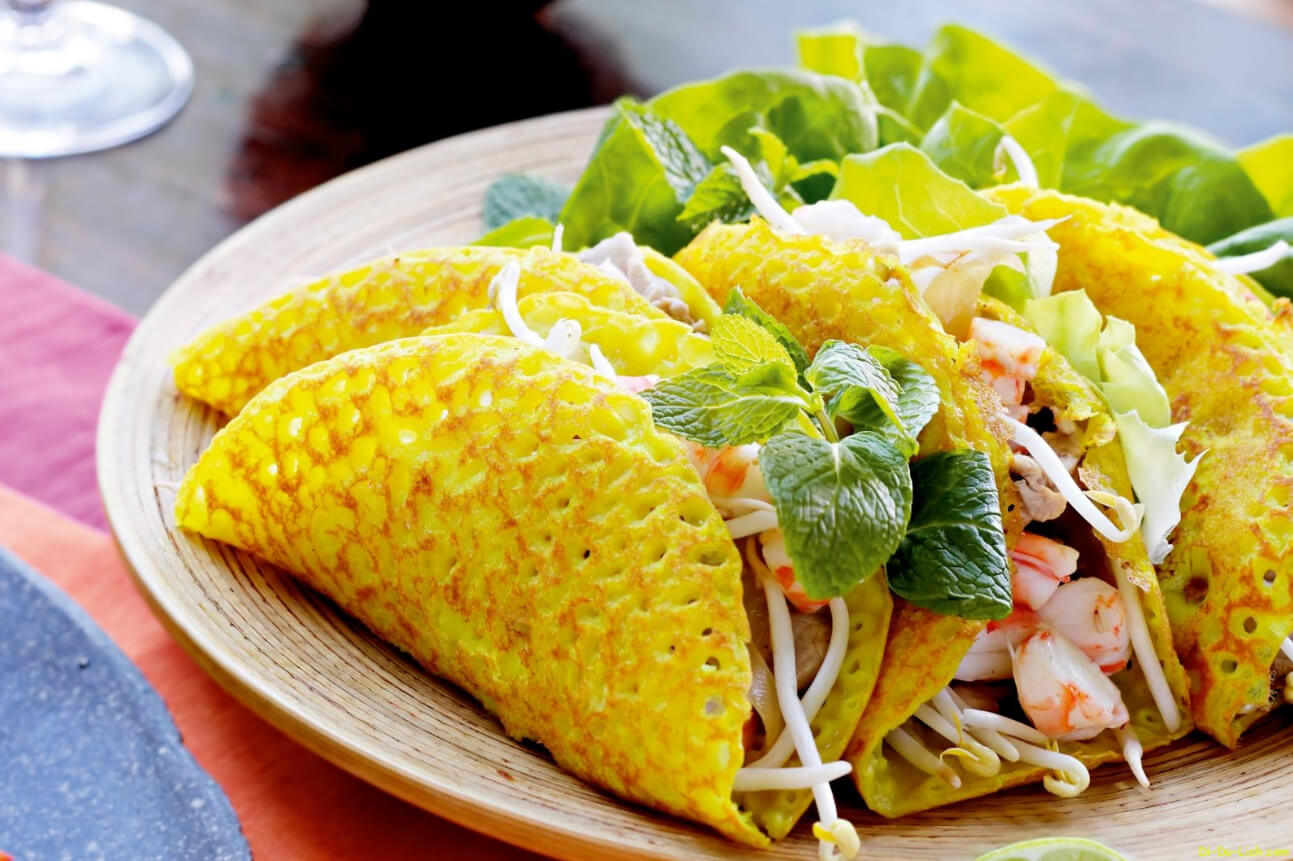 7. Bánh tráng nướng – Vietnamese Pizza
Maybe it is the cool weather of Da Lat that makes any dish cooked on the coal stove become superstars, and Vietnamese Pizza is not an exception. People will put some other ingredients such as pork, green onions, quail eggs, and dried shrimps on rice paper. Then they grill it and rotate it on the coal stove until done. Finally, they will cut it into small triangle pieces and serve with chili sauces. You can also choose to add cheese and sausage to your Vietnamese pizza. This is an addictive snack that you should try when you are in Da Lat.
8. Dalat avocado ice – cream 
Dalat avocado ice-cream is interested and searched quite a lot on Google by a lot of tourists who are intending and scheduled to come to the foggy city – Dalat city. A dish that is very famous and also known as if you have not enjoyed it, it is considered that you have not set foot in Dalat.
The way to make avocado ice-cream is also simple. The server chooses the best avocado to blend, and then adds a scoop of coconut ice-cream into the glass and really, that's all. The dish is a fantastic harmony of avocado and coconut swirled together in a glass of happiness.
9. Chè – Sweet soup
This is a food gift for the sweet tooth who is looking for something sweet that is not a cake. On a cool evening, a bowl of hot sweet soup for dessert is super welcome. There are many flavors you can choose, such as beans, corn, pomelo, banana and many more. Sweet soup is also another popular Vietnamese dessert which you will miss after leaving Vietnam.
10. Kem dâu tây – Strawberry Ice Cream
Strawberry ice cream is a must-try in Da Lat, even if you're visiting during the cold months. Thanks to its cool climate, the hills around the town are teeming with lush strawberry farms, so it's no surprise to see fresh strawberries served on cakes, waffles, smoothies, and ice cream. You can find the best patisseries, cafés, and dessert shops in Da Lat City Centre, especially along Nguyen Chi Thanh Street.
Don't hesitate to pack your luggage, come, and discover the amazing land. For more information please visit our family website:
For Vietnam online visa Govietnamvisa.com
For Vietnam local tours: Govietnamtourist.com
For exploring more parts of Vietnam:
http://www.vietnam-online.org/
(Visited 57 times, 1 visits today)