Salad rolls, Pho, Sizzling cake, Kebab rice noodles, Sweet and sour salad, Grilled fish, etc, are introduced to foreign visitors by the UK's travel guidebook, Roughguides, as Vietnamese delicious food.
According to Roughguides's evaluation, Vietnamese foods get distinguished and become unforgettable by the balance of different tastes as saltiness, sweetness, sourness and aroma. Despite not containing many spices, they use a lot of fresh vegetation.
Below are 10 Vietnamese delicious foods suggested by Roughguides: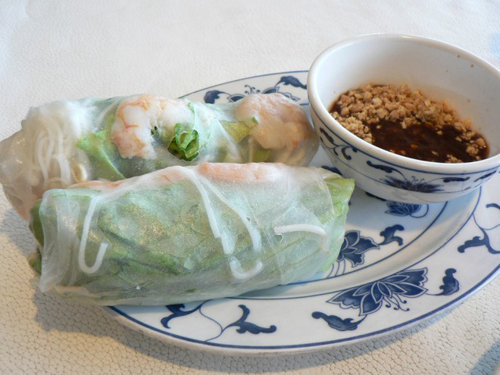 Salad roll ranks among Vietnam's most famous foods and is very agreeable to the taste. Each roll contains pork, crayfish with a variety of vegetable like banana, starfruit, lettuce, coriander, etc. Its strong smell can be sensed by sweet and sour sauce or the sauce made of peanuts and grinded pig liver.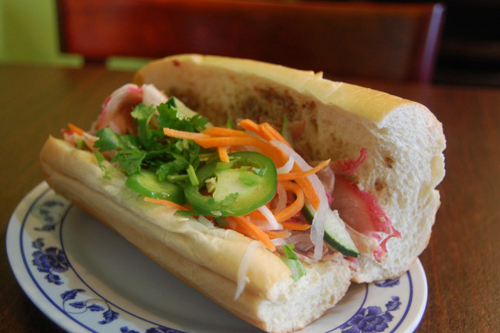 Vietnamese bread often appears in the most attractive street foods voted by many foreign magazines and media. Hot crispy baked bread consists of a mix of pâté, fried egg and vegetable inside.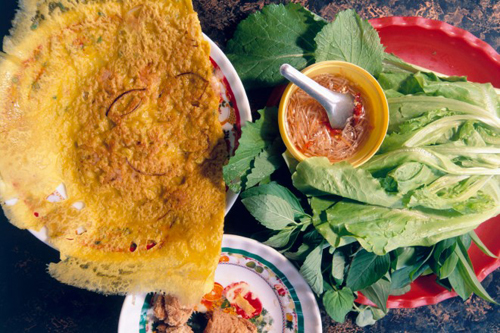 Sizzling cake, a popular and unique food of Vietnam, is a very attractive nosh. It is spread thinly on the frying-pan, with shrimp, pork and bean sprouts on, creating pleasant sizzles. While eating, table companion wraps the cake in the rice paper, adds fresh herbs, sour ingredients, then deeps it in spicy sauce.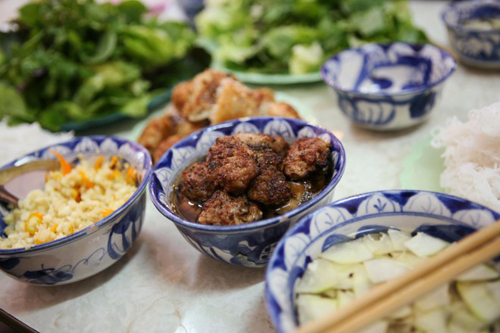 Kebab rice noodles is a familiar favorite food to any families of Hanoi. Tourists can find it in every corners of the capital city. The food smells strong with fragrant pieces of kebab on coal. It is eaten together with rice vermicelli with small snow-white threads and sour and sweet sauce.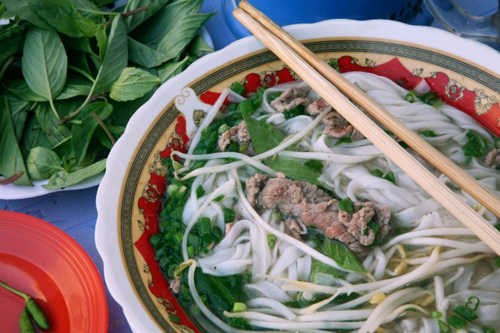 Pho, also known as "national spirit" of Vietnamese people, can be eaten at any time of day. A popular bowl of Pho includes beef or chicken, stock being poured on noodles, with natural sweetness from simmered bones and few Welsh onions and peppers.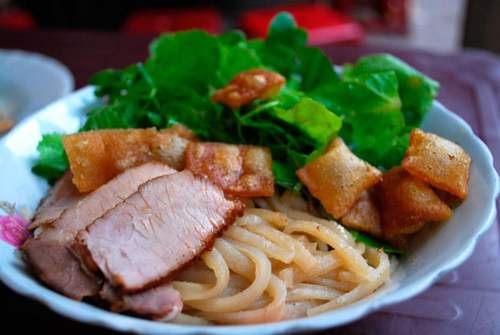 To enjoy the Cao Lau dish, come to visit Hoi An Ancient Town. The food contains big threads of noodle, bean-sprouts, meat with soup poured on, creating charming favor.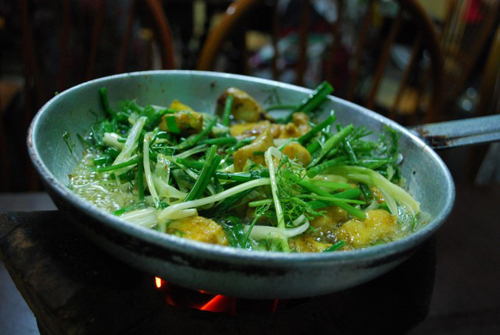 Grilled fish roll has associated with the well-known brand name "La Vong grilled fish" in Hanoi. It shows subtlety and typical characters of the land named Trang An. The fish is scented properly, then fried with Welsh onions, dill and quite a lot of oil. While eating, table companion eats fried fish together with rice vermicelli, shrimp sauce and roasted peanuts.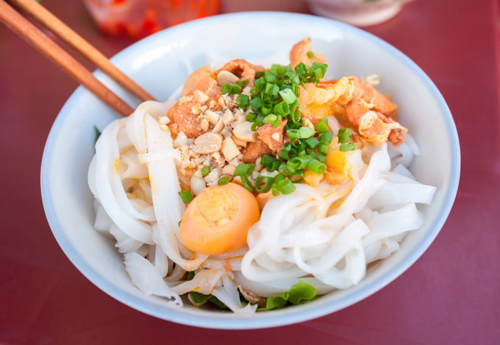 Quang noodle is a common food of the Middle of Vietnam being famous in Quang Nam province. A bowl of Quang noodle consists of rice noodles, pork, chicken, egg, with vegetable like mint.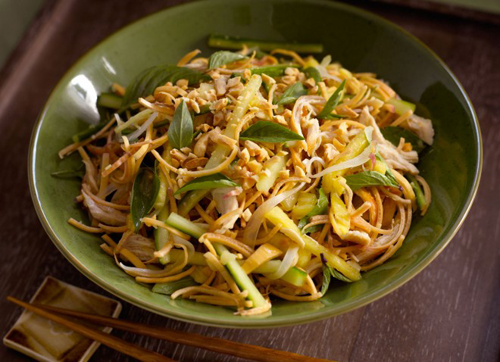 Sweet and sour salad made from banana inflorescence is an interesting food for vegetarians. Banana inflorescence is cut thinly then soaked in bittern and vinegar in order to lessen tart taste and whiteness. A delicious dish of salad needs to be mixed with roasted peanuts, bean-sprouts, herbs, sugar, lemon juice and chili. You can also add pork or pig's ears.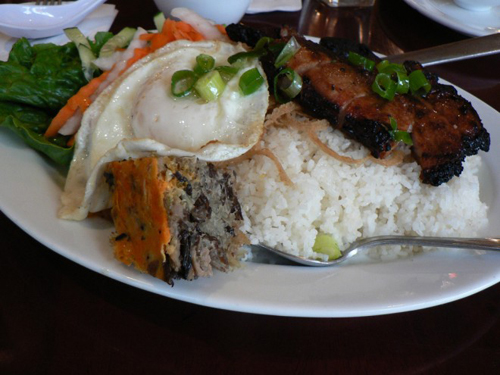 If Hanoi has kebab rice noodles, Sai Gon favors broken rice. This common food appears everywhere along many corners. A basic dish includes rice, pork ribs, fried egg with pork, enclosed with sour and sweet source.
Vietnam warmly welcomes you to enjoy Vietnamese cuisine and to make your trip in smooth water, turn your plan into real by quick hands to obtain Vietnam visa at http://govietnamvisa.com and for Vietnam eTicket at http://vietnamairlines247.com.
For your memorable travel, it is convenient to book tour at http://govietnamtour.net
(Visited 296 times, 1 visits today)