Being favored by nature, Sapa is known as the paradise for tourists to relax. People who come here will be enchanted by its fresh air, cool climate, range after range of mountains, outstanding scenery, and especially the amazing culinary scene. If you have a chance to visit Sapa, plan ahead to fulfill your belly with these 10 local foods in Sapa.
Com Lam – Sticky rice cooked in bamboo
Sticky rice cooked in bamboo is the featured dish of the ethnic groups in the Northwest of Vietnam. The main ingredient of this dish is sticky rice, which is cooked in bamboo steam. When the dish is well-cooked, the burnt bamboo steam outside will be removed.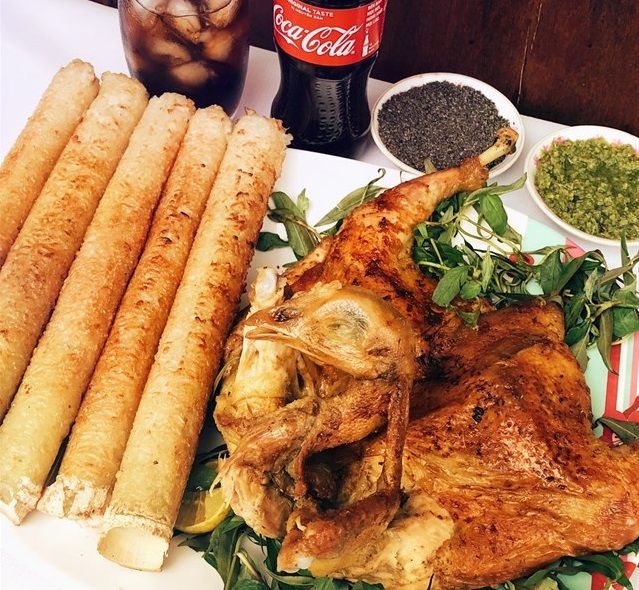 " Com Lam"  is very popular and is a favorite dish of the locals and tourists, thanks to the delicious taste of the sticky rice, the fragrance of bamboo, and the harmonious combination of rice, stream water, and bamboo.
2. Seven – color sticky rice
Seven-color sticky rice is a traditional dish of Nung people in Muong Khuong district, Lao Cai province. The seven colors of this dish are pink, light red, dark red, indigo, yellow-green, green and yellow. The colors of sticky rice are made of different kinds of leaves in the forest. The people here believe that eating the seven-color sticky rice on special and important occasions will bring good luck.
3. Sapa Pork 
Cap Nach pork is a specialty of this mountainous region. The ways to make this dish is diverse. The locals usually roast a whole pig directly on charcoal so that the skin covering the pork is very brittle while the pork inside is very delicious and fleshy. Others stir-fry the pork with little or no water and herbs. No matter how do you cook it, make sure the pork is soft with a hint of spicy.
4. Salmon Sour hotpot
Unlike the greasy imported salmon, salmon raised in Sapa is high in nutrition and less greasy. People process it in many different ways to create delicious dishes such as salmon salads, grilled salmon, sashimi, salmon cooked with curry. However, salmon hot pot is the most favorite dish of many diners.
5. Smoked meat
When visiting the houses of H'Mong people in their villages, you can see many pieces of meat gathered on a tray. The meat comes from the horse, buffalo, and pig and they are smoked to store. This method of storing food can keep the food usable up to a few years. When eating, the meat is carefully washed and fried with tomato, and bamboo sprout. The dish will have a unique fragrance and featured taste when it is done.
6. Black – bone silky fowl
The Black-Bone Silky Fowl of Mong people is very special because its bone and meat are in black. The crunchy skin and the black chicken meat offer such a refreshing taste. The scientists have proven that eating black-bone silky fowl can help you increase your sexual ability and treat heart diseases.
The most famous dish processed from the Black-Bone Silky Fowl is grilled Black-Bone Silky Fowl with honey. The delicious and excellent taste of this dish will surely meet your need.
7. Grilled fish
This simple dish is incredibly delicious, and it is a pity if you travel to Sapa without trying the grilled fish. Sapa has many kinds of fishes, and their flavors are different from other fishes. The goby fish, bighead carp, etc. are usually found in the stream of Sapa. Almost of them are not so big, just as big as your fingers. When completing the catching fish process, you just need to make a fire to grill the fishes or cook them with some kinds of species to have an attractive dish. The sweetness and freshness of this dish are irresistible to any diners.
Don't hesitate to pack your luggage, come, and discover the amazing land. For more information please visit our family website:
For Vietnam online visa Govietnamvisa.com
For Vietnam local tours: Govietnamtourist.com
For exploring more parts of Vietnam:
http://www.vietnam-online.org/
(Visited 131 times, 1 visits today)