Cat Ba island recently has become one of the hottest destinations for travelers to North Vietnam. There are so many options for hotels there but below we list the best hotels and resort in an island so you can choose one of them for your holiday.
Cat Ba Island Resort and Spa
Cat Ba Island Resort & Spa is one of the best resorts in Cat Ba Island. With 165 rooms and suites, Cat Ba Island Resort & Spa offers an island-inspired retreat for travelers visiting Cat Ba Island. The resort has a well-appointed ocean view from different rooms to ensure travelers have a good experience on your holiday.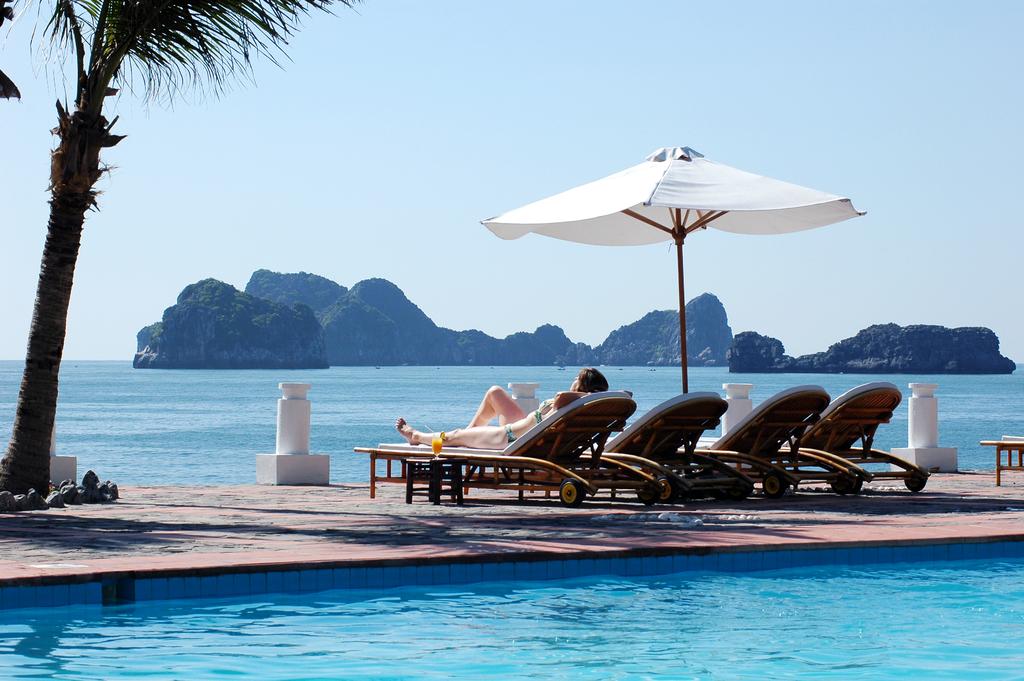 The resort is next to Cat Co 1 beach so that it is very convenient for you to go swimming any time at one of the beaches on the island. There are swimming pools in the resort and you can enjoy swimming anytime even in the evening. The resort offers bar and restaurant serving Vietnamese and Western food. All those things ensure that you can have a great holiday.
2. Cat Ba Sunrise Resort
Cat Ba Sunrise is a local 4 star in Cat Ba island. The resort is about 1 km from the town and it is next to the beach. Thus the resort has the best sea view and beach view. Just walk out of the resort you will get to the beach and can go swimming. There are also swimming pools for you when you do not want to go to the beach.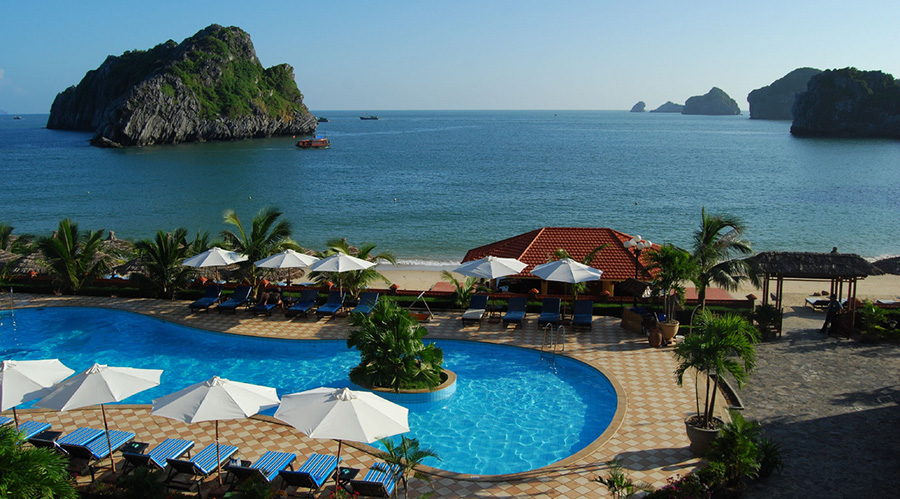 All the rooms are equipped with luxury and elegant facilities from natural materials like brick, wood, and tile.
Located in the middle of the karst mountains and beach, Cat Ba sunrise is a paradise to enjoy your vacation. Most of the rooms have a balcony facing to the sea where you can enjoy the sunrise in the early morning.
3. Cat Ba Sandy Beach Resort
Cat Ba Sandy Beach Resort is 3 stars resort located on the private island of Nam Cat. Nam Cat Island is a small island in Lan Ha Bay. It will take you about 30 minutes to get to Cat Ba Sandy Beach Resort from Beo Pier in Cat Ba.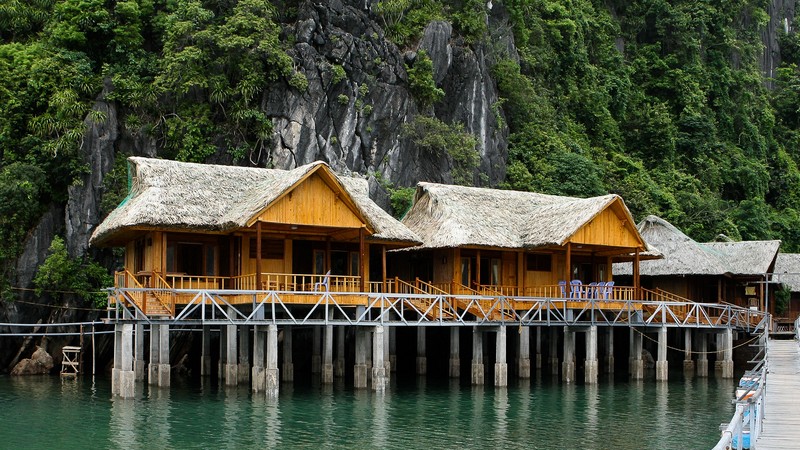 As its name – Sandy Beach Resort, you will have a unique experience with a private beach resort when you stay here. You will enjoy swimming any time on a white sandy beach of cool crystal clean water. Escape from the crowd of Cat Ba Town, you will relax in the middle of nowhere. Lying on a quiet beach with a cocktail and watch the sunrise or sunset is awesome and nothing is more enjoyable.
4. Paradise hotel Cat Ba
Paradise hotel Cat Ba is located in the center of Cat Ba Town. It is about 650 meters from Tung Thu beach – a quiet beach and about 1.1 Km from Cat Co Beach – The popular beach for most of travelers to Cat Ba Island.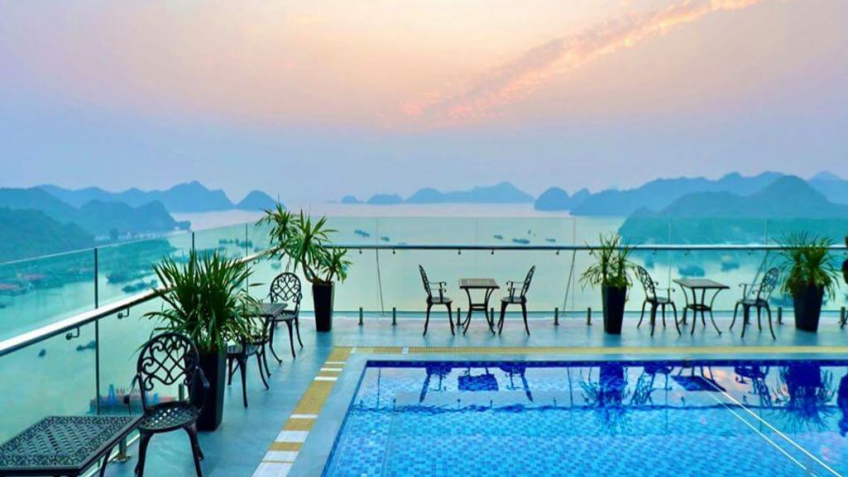 Paradise hotel Cat Ba is a 3.5-star hotel in Cat Ba. With a good location, good services, Paradise hotel Cat Ba is a good choice for travelers who visit Cat Ba Island. The hotel has a bar, restaurant and a swimming pool on the rooftop. Guests can go swimming while looking out to Lan Ha Bay. The hotel restaurant capacity is 200 guests which is suitable when you are a big group traveling with the company. With luxury rooms and excellent services, Paradise hotel Cat Ba is ranked as the top 1 hotel in the town.
5. Cat Ba Eco-Lodge Resort 
Cat Ba Eco-Lodge is one of the best choices if you are looking for the gateway at a quite, private, and natural resort. This is a 3 -star resort, lurking in the wood, 113 km far from the center. It takes 15 minutes from Cat Ba National Park.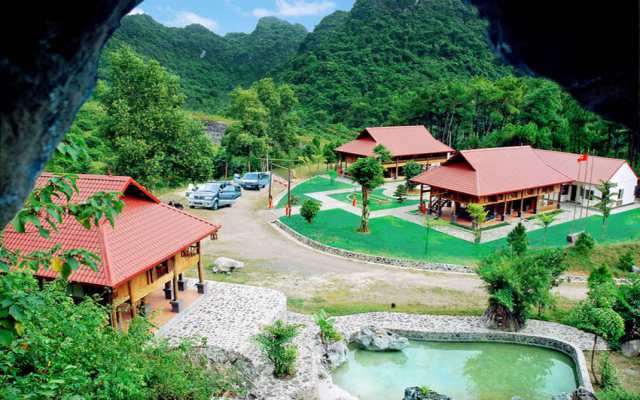 Don't hesitate to pack your luggage, come, and discover the amazing land. For more information please visit our family website:
For Vietnam online visa Govietnamvisa.com
For Vietnam local tours: Govietnamtourist.com
For exploring more parts of Vietnam:
http://www.vietnam-online.org/
(Visited 53 times, 1 visits today)