Madam Nguyen Thi Loc (80 years old) said "Originally, I sold porridge, and then I sold bread; it has been nearly 60 years. Her store's name was titled by foreign tourists. Then they told me this is the most delicious bread shop in the world"- The Banh Mi Queen.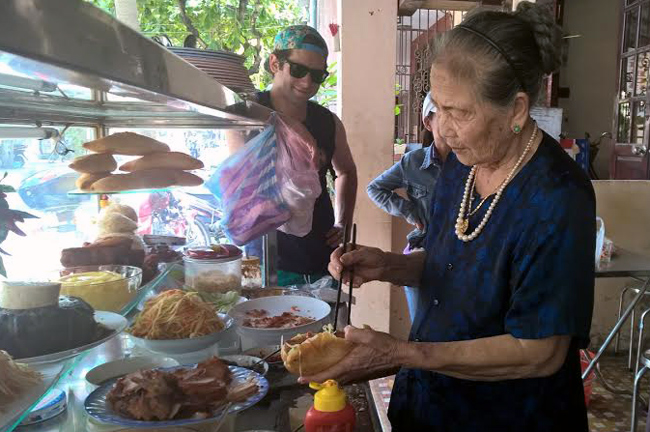 Madam Loc daily makes banh mi and sells to tourists.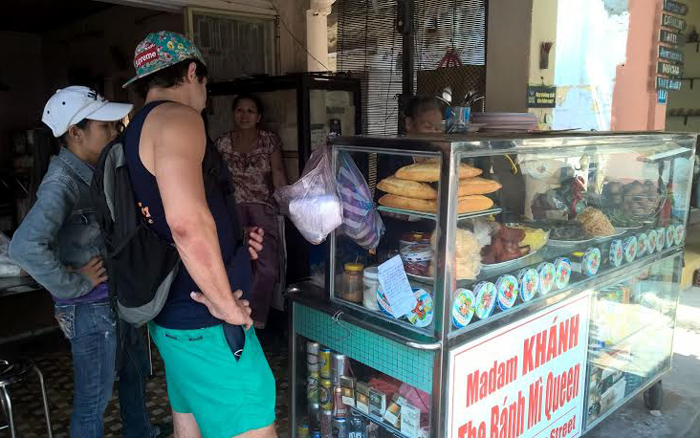 Foreign customers wait to eat the most delicious bread in Madam Loc's store.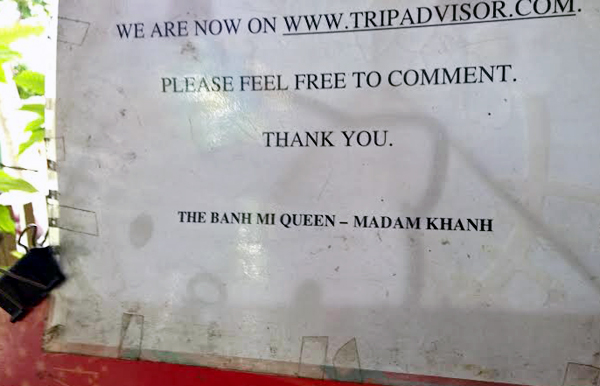 Banh mi Madam Khanh was ranked 7th by TripAdvisor for delicacies in Hoi An
It was remained unknown when the name "Madam Khanh – The Banh mi Queen" (115 Tran Cao Van, Hoi An city) of Nguyen Thi Loc (80-year-old) appeared.
Madam Loc remembered after getting married, she sold porridge and then changed to sell banh mi.  Local people here usually call Madam Khanh store because they called as my husband's name. My name is Nguyen Thi Loc".
The store is located under the narrow eaves, just enough for two tables. The store's name is written in English and stuck in front of a glass case with name "Madam Khanh – The Banh mi Queen".
On the wall where she stands to fry eggs, there are hundreds of written papers. They are praises of foreign guests, thank you for giving them "delicious unprecedented bread".
On the popular tourist forum TripAdvisor, hundreds of tourists who visited Madam store, also lavished praise. Customers voted "The Banh mi Queen" on 7th rank for utilities, cheap, tasty and safety compared to hundreds of restaurants in Hoi An.
Among hundreds of hand letters from foreign customers from France, England, India, Japan, South Korea, etc., Mr. Gary (from Sydney, Australia) wrote: "Many people say that this is the most delicious bread in the old town. Wrong! This is the most delicious bread, than any kind in the world ".
Or a guest said: "A lovely and kind lady that I've ever met in Vietnam".
Many visitors said: "No doubt. It was the most delicious bread I have ever tasted. Lovely and friendly service. And be sure that you will have a fresh and delicious cup of tea after eating ". All is confirmed that Madam Khanh banh mi is the tastiest and cheapest in the world, with only VND 20,000, less than 1 dollar.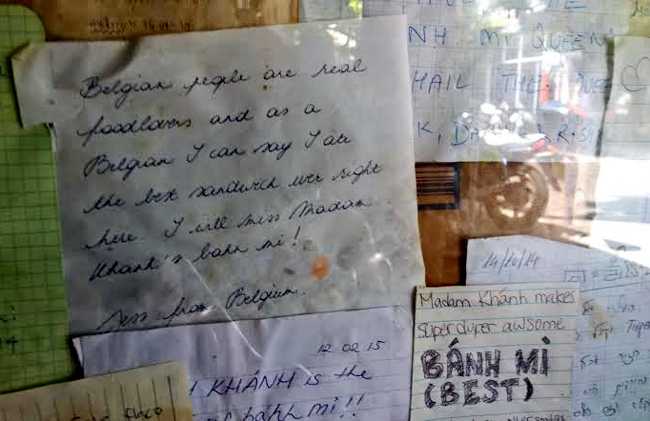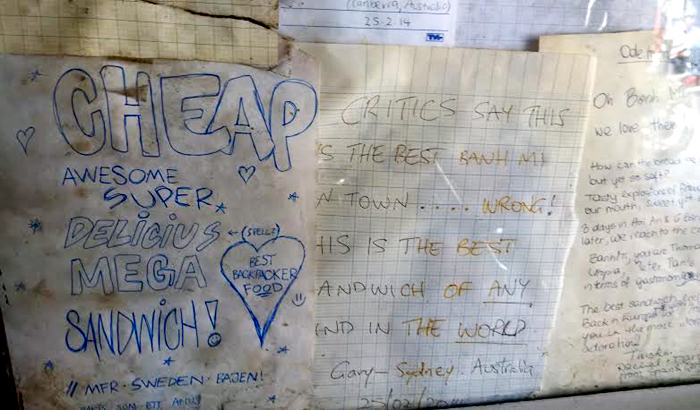 Foreign customers after eating the banh mi Queen wrote hundreds of letters to praise tasty and cheap banh mi of Madam Loc in the world.
Madam Loc told "It is so hard, my whole family have to get up at 4 am to have enough time preparing bread for customers. All breads' fillings are made by me and my daughter".
Banh mi that was made by "Madam Khanh" is just like many other bread at first glance, but when eating a few bites, you will feel crispy of bread, delicious taste of meat, fried eggs, etc.
Vietnam warmly welcomes you to enjoy Vietnamese cuisine and to make your trip in smooth water, turn your plan into real by quick hands to obtain Vietnam visa at http://govietnamvisa.com and for Vietnam eTicket at http://vietnamairlines247.com.
For your memorable travel, it is convenient to book a tour at http://govietnamtour.net
See more Famous Vietnam Cuisine at dacsanbakien
(Visited 286 times, 1 visits today)