No hustle, no bargain, both sellers and buyers in these markets come to pray for luckiness and wish a lucky new year.
Unlike other markets, these below markets are only held once a year.
1. Khau Vai Love Market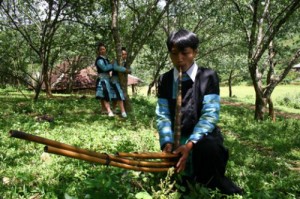 In late March (lunar calendar), in stone highland of Ha Giang, young girls, young boys, elderly, tourists from other places come to Khau Vai to take part in the distinct love market second to none in Vietnam.
The market is held once a year on March 27th (lunar calendar), 200 km from Ha Giang city. The market has long been a traditional market of H' Mong ethnic people. At the past, people coming here all had unfinished love, due to some reasons they can not live forever together. They came to give love each other after one night and next morning, when the market finished, they came back their daily life with their husbands or wives without any envy.
2. Vieng Market, Nam Dinh
Only held once a year, the market has long started and attracted thousands of tourists every year who come here to "buy luckiness, sell badness". The market is annually held on 7th and 8th of January (lunar calendar) in Nam Truc district and Vu Ban district.
Both sellers and buyers do not too pay attention to purchasing and interest, they take part in the market to pray for luckiness and wish a smooth and prosperous new year. In the past, Vieng market only sold farming equipment, especially knives, axes, plowshares, etc. but nowadays, people bring various kinds of food making the Vieng market become busier.
3. Antique Market, Hanoi
The market is only held on from 23rd to 30th of December (lunar calendar) right in 5-way intersection of the Old Quarter: Hang Ma street, Hang Luoc street, Hang Can street, Hang Dong street which mainly sell antique items, antique-like items and bronze items dated back to tens or hundreds year ago. Despite market, there are about small-scale kiosks with no signboard. Customers coming here to buy antique items to decorate their houses, some come just for seeing and rambling on occasion of Tet holiday. This is also an end-year meeting place for antique lovers.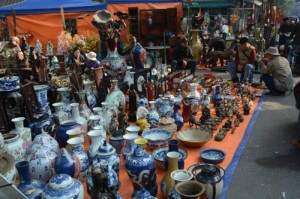 Antique items and antique-like items are sold in the market
The market displays various goods but most popular is worshipping items, Buddha statues or 4 sacred animals, ceramic items, etc. However, only people who know clearly antique discriminate fake items from true antique ones and pay accurate money for it.
4. Yin and Yang Market, Bac Ninh
The market is only held at night 4th and early morning 5th of January (lunar calendar) in Xuan O village, Vo Cuong district, Bac Ninh city. According to conception of residents here, this is a precious chance for the dead and the living meet together.
The market is held at night, in an empty lot near a sacred temple. This is a market without kiosk; people just bring a chicken as a sacrifice offering. Buyers do not bargain, just hear sound of whispering. People here think that going market is a chance to do kind works for the dead. This is also a cultural activity imbued with folk beliefs of Northern area.
Vietnam warmly welcomes you to enjoy Vietnamese cuisine and to make your trip in smooth water, turn your plan into real by quick hands to obtain Vietnam visa at http://govietnamvisa.com and for Vietnam eTicket at http://vietnamairlines247.com.
For your memorable travel, it is convenient to book tour at http://govietnamtour.net
For your great stay and nice relaxation after a long trip, it is nothing better than booking hotel at http://govietnamhotel.com
(Visited 66 times, 1 visits today)