The beauty of Ha Long Bay, Rapids of Stone Plate, Vung Tau's sea parting pathway is as great as that of any country in the world. Famous Tourist Attractions in Vietnam Like In Foreign Countries.
No need to spend much time and money, visitors still discover world famous beauty spots, tourist attractions in Vietnam.
New York Central Park and Vinhomes Central Park
Anyone arriving New York City of the USA will be amazed by the beauty changing through four seasons of Central Park. Located at Manhattan's center, the whole park's landscape looks quite untouched and natural under skillful hands of people. Natural lakes, long walking paths, a wildlife sanctuary, and a huge natural wood are attractive to tourists.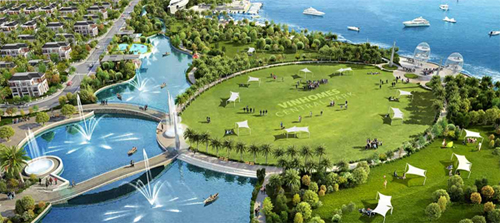 Vinhomes Central Park is created based on the model of Central Park – New York.
You do not have to go halfway around the world, to the USA; you still enjoy natural landscape of Central Park in Ho Chi Minh City.
Being inspired from well – known New York's central park, Vinhomes Central Park with square of 14ha and length of more than 1km along Sai Gon River will bring you a completely different feeling among the noisy and busy pace of life.  The park which is invested by Vingroup has enough landscape items and space to meet the demand of relaxation and entertainment of various ages. Green spread meadows, tree shadow pattern road, hills sloping to the river bank, tree top walkways… give you experiences like in Central Park – New York.
The park is planned to complete at the end of 016, Vinhomes Central Park will be the biggest riverbank park in the center of Ho Chi Minh Ciy, becoming one of the city "green lungs''.
Phang Nga Bay (Thailand) and Ha Long Bay
Phang Nga Bay in Thailand with more than 40 islands and islets, high and majestic rock mountain ranges along clean blue water is one of favorite places of tourists when they visit the land of Gold Pagoda.
In Vietnam, you could contemplate scenery at Ha Long Bay which is as imposing as Phang Nga Bay. Ha Long Bay doesn't accidentally become a pride of the North in particular and Vietnam tourism in general. The heritage recognized by UNESCO attracts a lot of domestic and international tourists to visit every year.
Giant's Causeway (Iceland) or The Rapids of Stone Plate (Vietnam)
Giant's Causeway is located in County Antrim on the northeast coast of Northern Ireland.  It is considered as Irish's natural wonder with around 40,000 interlocking basalt columns, the result of an ancient volcanic eruption, during the Paleogene period, around 50 to 60 million years ago. It was declared a World Heritage Site by UNESCO.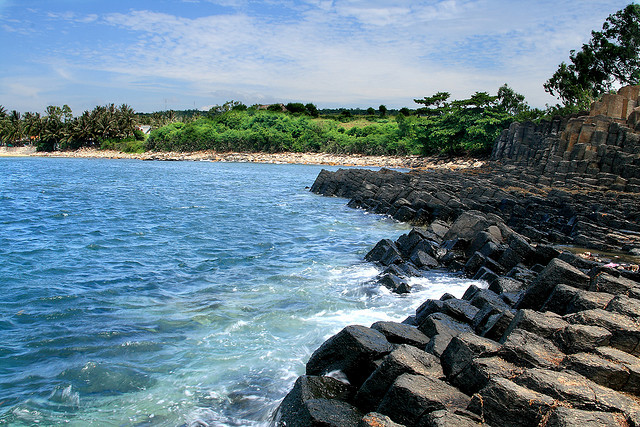 The Rapids of Stone Plate in Phu Yen
In Vietnam, many tourists visit The Rapids of Stone Plate (in Phu Yen) for the first time will not only be amazed by its beauty, but also attracted by vivid stone rocks. At first glance, you might be find it hard to distinguish between The Rapids of Stone Plate and Giant's Causeway because hexagonal rock columns standing in close position; each column stepping to another one on a rocky spread mysterious dark islet; surrounded by water waves are totally similar.
Sea-parting road in Vung Tau – Korea
Modo and Jindo sea in South Korea attracts tourists all over the world because of its amazing natural phenomenon. When the sea tide is low, the waters between Jindo and Modo islands suddenly split, and create a causeway connecting two islands. The road spends most of the time sleeping in the deep ocean. However, around April–June, the land pass opens between Modo and Jindo islands and becomes the most popular tourism place in South Korea.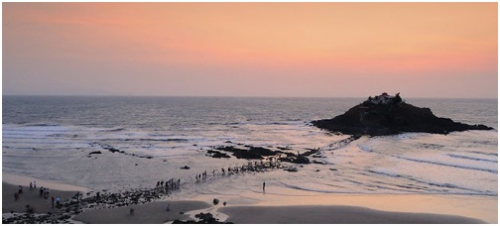 Sea-parting road in Vung Tau
You do not need to travel anywhere far, you could walk on sea passing ways in Hon Ba island – an islet located at Vung Tau beach, far 200 meters from Mui Nghinh Phong ( The cape of greeting wind).
In the afternoon, when the tide goes to the lowest level, the waters self-split and exposes rocky road leading from the sand to Hon Ba Island. Visitors can leisurely walk on the beach, smell the sea breeze passionate and cooling feet. However you remember back to the mainland before dark, when the tide start and water sea will cover the road.
Vietnam warmly welcomes you to enjoy Vietnamese cuisine and to make your trip in smooth water, turn your plan into real by quick hands to obtain Vietnam visa at http://govietnamvisa.com and for Vietnam eTicket at http://vietnamairlines247.com.
For your memorable travel, it is convenient to book tour at http://govietnamtour.net
(Visited 570 times, 1 visits today)