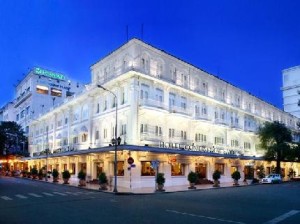 Overview
Continental Hotel Vietnam, located in central Saigon (or Hochiminh City), is a 4-star hotel, very convenient for both businessmen and tourists. Dating back from 1880, it is considered the ever first hotel in Vietnam. Today, it remains nestled among the classical buildings of old Saigon such as the Opera House, Notre Dame Cathedral, Ho Chi Minh City People's Committee, facing the future without forgetting the past. Continental Hotel Vietnam has a great ancient style combined with the modern architecture, fully equipped with free Internet, buffet, great facilities and services. Around Continental Hotel Vietnam are shopping malls, clinics, restaurants, clubs, etc. for your using.
Hotel Location
The Continental Hotel Vietnam (or another word is Hotel Continental Saigon) is situated right in the heart of the city, and near a number of conveniences for both travelers and businessmen, and only within walking distance of most major attractions, festivals and events. It is only 20 minutes ride from Tan Son Nhat airport, and only 5 mins walk from the central bus station (opposite to Ben Thanh market). Very easy to reach!
Room Facilities & Pricing
The Hotel Continental Vietnam, similar to many other hotels, offers 4 room types: Superior, Deluxe, Oriental Suite,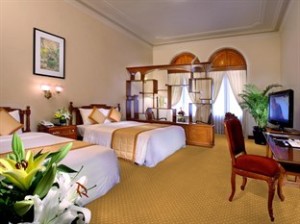 and Junior Suite. All room types have full facilities, below are amenities of the Superior Room for your reference:
Superior Amenities
Alarm Clock
Bath Tub
Cable TV
Coffeemaker
Cribs Available
Free Newspaper
Hairdryer In Room
Jacuzzi
Mini Bar
Sitting Area
TV
Telephone
Air Conditioned
Hotel Continental Vietnam Prices:
The lowest room price is Superior, which is around $110 normally, yet, for summer, the prices is discounted to $85 or around. So if you gonna book a room here for vacation, leave it to summer for receiving discounts.

Hotel Facilities & Services
Restaurants in the Continental Hotel Vietnam own a long history like the hotel itself. Here was the rendezvous point for politicians and correspondents to discuss about the war and daily news "If the walls of Hotel Continental Vietnam could talk they would tell you lots of secrets". The restaurants of Hotel Continental were chosen as well-know rendezvous points because of their very good location for people to hide themselves watching what was happening outside, in front of the Opera House and in Catinat Street (Dong Khoi Street today).
T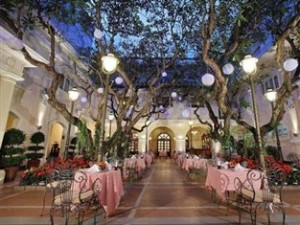 he Hotel Continental Vietnam offers quite a lot of cafes, bars and restaurants with a variety of kinds of Vietnamese cuisine, Western and Eastern food : Le Bourgeois Restaurant , Continental Palace Restaurant , La Dolce Vita Café, Starrynite Bar, La Dolce Vita Bar
Meeting room: People choose Hotel Continental Vietnam to organize meetings because its meeting rooms are well equipped and offer a wide choice of meeting functions such as workshops, seminars, product launches and video conferences.
To get more information about Hotel Continental Vietnam, or to book a low-cost room here, please feel free to contact us at +84.936.600.886 or +84.946.762.224 or email us at support@govietnamvisa.com . We are more than willing to assist at our best.
(Visited 191 times, 1 visits today)