Gliding her delicate fingers over the dan tranh (16-chord zither), Nguyen Kieu Anh ardently releases her mind to the beautiful sound of ca tru (a Vietnamese ancient genre of chamber music), injecting a wave of stimulation across the audience of Viet Nam's 2013 Got Talent contest.
In the middle of the song Ngoi Tua Song Dao (Sitting beside the window), her singing switches to English, which surprises an already delighted audience even more. Nguyen Thuy Hanh, the only female judge in the contest, said she would fall for Anh if she were a man.
The eighteen-year-old is the seventh generation of a reputable ca tru family in the capital. In 1995, Kieu Anh's family was invited to perform abroad and they delighted the world with their style of folk music.
"I grew up with the sound of castanets and with each of my family members singing ca tru. It's the most wonderful sound I've ever heard. When I went to school my classmates asked me about ca tru since they knew nothing about it, but once they heard me sing ca tru and play dan tranh, they were excited," recalls Anh.
When Anh attended Viet Nam's Got Talent contest this year, she transformed her image from a girl in a long dress and turban into a beautiful lady with long, black hair.
"I've been practicing ca tru since I was six. However, I practiced because my parents asked me to, not because I wanted to. I didn't know why I had to do it, I just wanted to hang out with friends. But after practicing for a year, I received tonnes of compliments from my friends, and I've loved ca tru ever since then," she said.
She said ca tru is very difficult to enjoy because it is a type of chamber music and not many people like hearing it.
The lyrics and techniques used in ca tru are very demanding too.
During the competition, Anh combined the melody of ca tru with a newer style of world music. Coming from a younger generation of singers, she tries to challenge herself by mixing various kinds of new music with her traditional style of singing.
"Four years ago my family was asked to make an album for the Viet Nam National Academy of Music. I sang a song on the album, composed by the musician Quoc Trung, called Do Dua.
First he helped me with the melody, then later he introduced me to and convinced me to perform with other famous artists from the circle, such as Nguyen Le, Dhafer Youssef and Rhani Krija, a Moroccan artist born in Germany.
Trung is known in Viet Nam for his many world music projects. During my time working with him, I began studying world music and felt interested in it," Anh says.
World music is a musical genre encompassing various styles of music from around the world, including traditional music, quasi-traditional music, and a combination of different types of music taken from various cultures.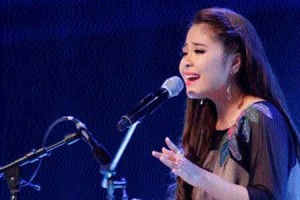 Anh's performance of ca tru and dan tranh combined with world music attracted more than 41,000 views on YouTube, and it was also highly appreciated by the judges from the contest.
"Before singing the song, Sitting beside the window, I needed to return to Bac Ninh Province, the cradle of traditional quan ho singing, to ask for help from the People's Artist Thuy Huong. Thanks to her support, I was finally able to complete my song," recalls Anh.
Musician Trung, mentor of Kieu Anh, says that combining national folk music with world music is an important trend today.
"I didn't choose world music at first. I chose the music style I like best. Later, I learned that using other types of music allowed artists to better show their characteristics and ability. It's modern but also very traditional, and it's the only way for singers like Kieu Anh to attain the same level of recognition as global artists," he says.
What he said is maybe both a good sign and also a challenge for the young girl. However, Anh is very confident in the path she has chosen. "In the future, I will still sing ca tru and continue discovering different aspects of world music. As an artist, I can't tie myself up with only one or two styles of music. It's also a way to preserve traditional music and integrate it with global music," she says.
All-rounder: In addition to her ca tru talents, Nguyen Kieu Anh has now become a popular singer of world music.
Vietnam warmly welcomes you to enjoy Vietnamese cuisine and to make your trip in smooth water, turn your plan into real by quick hands to obtain Vietnam visa at http://govietnamvisa.com and for Vietnam eTicket at http://vietnamairlines247.com.
For your memorable travel, it is convenient to book tour at http://govietnamtour.net
For your great stay and nice relaxation after a long trip, it is nothing better than booking hotel at http://govietnamhotel.com
(Visited 55 times, 1 visits today)