Talking about Vietnamese cuisine that you can not miss "Banh mi" – Vietnamese Bread. "Banh Mi" is favored to keep the Vietnamese name worldwide thanks to its peculiar feature that you can not find it anywhere. In 2011, the word "Banh Mi" was added in the Oxford Dictionary.  In recent years, it has been praised by a lot of well-known newspapers and tourism blogs such as BBC, The Culture Trip, Zester Daily, and Price Of Travel. In 2012, Guardian, the famous British newspaper, voted for Banh Mi and listed it in the top 10 most attractive and delicious street foods in the world. Especially, in 2018 Banh Mi-Inspired Dress selected as Vietnam's National Costume in Miss Universe competition.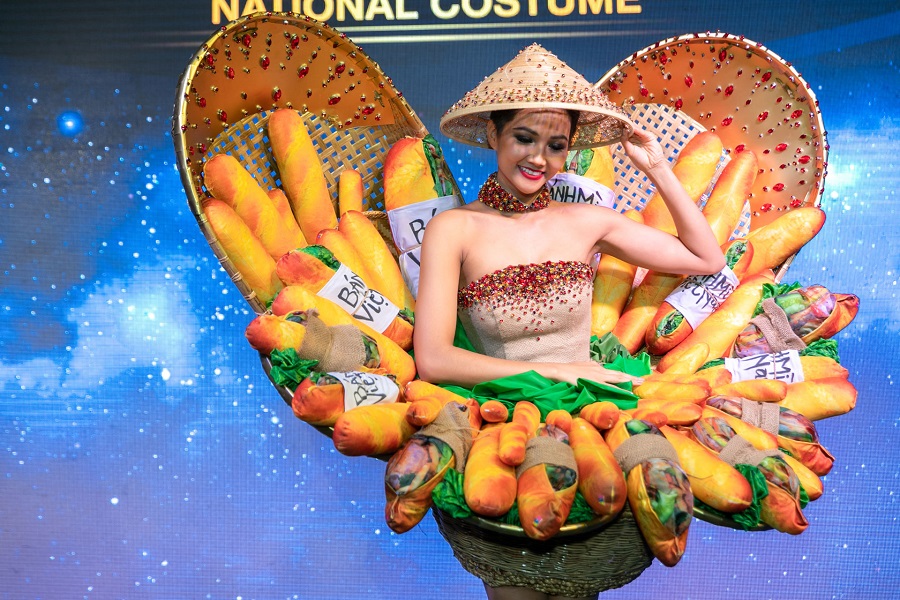 Banh Mi-Inspired Dress selected as Vietnam's National Costume in Miss Universe competition.
If you have a chance to make a Vietnam tour, you should spend a day wandering along small alleys and corners of Vietnam streets and enjoy the bread at any store or simply food selling carts right on the street as a local. You will feel the fullness of the flavor of Banh Mi. The flavor of Banh Mi in various which makes it become a typical street food. Normally a bread loaded is served with pork sausage, hot dog, coriander, cucumber, pickled carrot slices, or simply topped with pork floss with a sauce of chili and mayonnaise or egg and pâté that is often made from liver and organs of animals. You can even talk with the seller the ingredient that you like then you will have bread meet your requirements. If you look it loo inside the bread, you will see the whole world of flavors when all spices and ingredients melt in your mouth and hearing the sounds of crispy toasted crust seems to wake up every taste of eaters. Each bite of banh mi is reflecting special traits of the unique cuisine of Vietnam.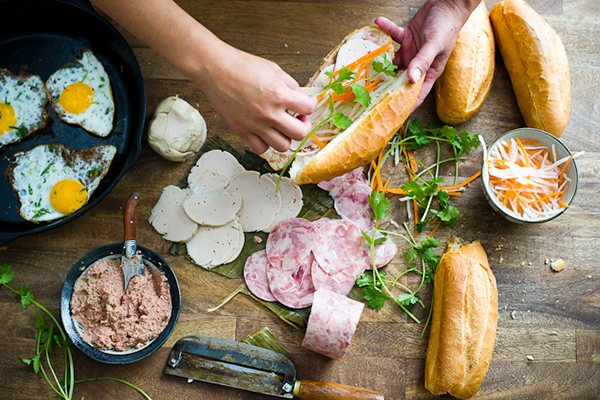 "Banh mi" – Vietnamese Bread
Vietnamese Banh mi does not attract foreigners falling in love but also top famous chefs and bloggers such as Anthony Bourdain who is one of the foreign cooks who is obsessed with Vietnamese cuisine and spent lots of time studying about food.
Banh mi is the epitome of the street and it's a food affordable street food so you can find it on any streets of Vietnam. Today, Banh Mi is not only served for breakfast but also for lunch and dinner. It seems to become a Vietnamese culinary brand that any visitors must taste when being in Vietnam trips.
It is such a pity if you do not enjoy a loaf of Banh Mi and visit Vietnam once in your life. Don't hesitate to pack your luggage, come and discover the amazing land. For more information please visit our family website:
For Vietnam online visa Govietnamvisa.com
For Vietnam local tours: Govietnamtourist.com
For exploring more parts of Vietnam:
http://www.vietnam-online.org/
Backlinks Versichjerungsvergleich Private Krankenversicherung Kfz Versicherung
(Visited 269 times, 1 visits today)