Just a few steps down from the Japanese Covered Bridge, this old house has a wide, welcoming entrance hall decorated with exquisite lanterns, wall hangings and embroidery.
Opening Hours: Mon to Sun: 08.30 AM- 6 PM
Add: No 4 Nguyen Thi Minh Khai Street
Visiting this ancient home in Hoi An and enjoy the old-world charm. The Old House of Phung Hung is considered cultural heritage of the town.
The housewas built in 1780 , locate at 4 Nguyen Thi Minh Khan Street. Conferred the title of "National Historical and Cultural Site" in 1993, the house has kept many documents about the architecture, culture, art and lifestyle of the Hoi An's business circle from the old days.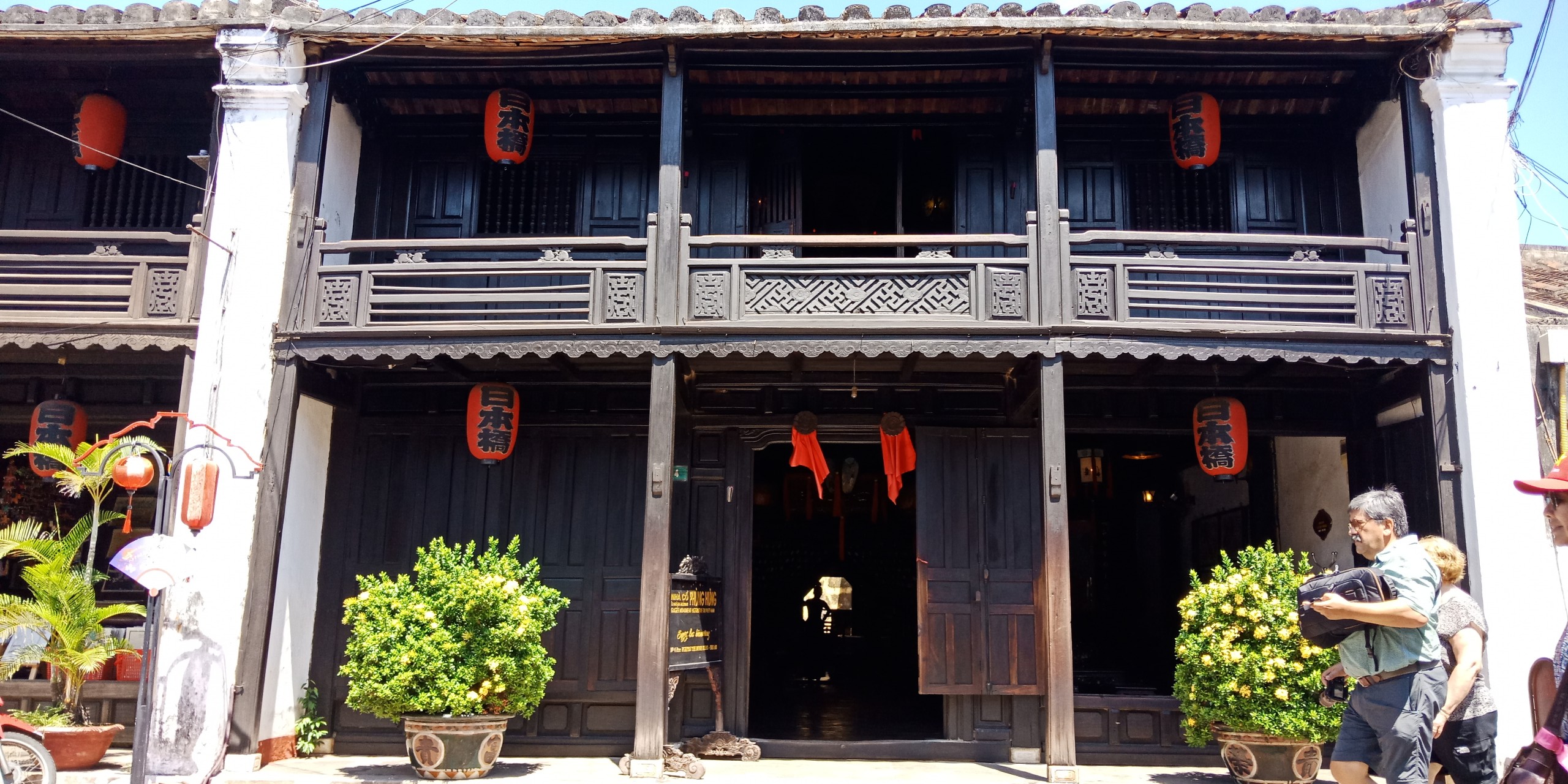 Phung Hung House
Phung Hung House bears the popular style of the 19th century – tubular shape, with a wide facade. It is mainly made of wood , not as long as some other old-style houses with two stories and four roofs.
The house includes the unique blending of two different architectural styles. The different floors are designed in two different styles: the Japanese style of four-sided roof can be perceived in the ground floor, and the Chinese design of round shaped roofs that reflect a turtle shell is present in the upper floor. The ground floor used to be the shop but it's family's living room now, furnished with some wooden old-style cupboards. The house has 80 columns made of precious wood. Each column stands on a lotus-shaped base in order to minimize subsidence and moisture for the house and to prevent termites from damaging it.
On this floor, there is a square hole used for moving goods upstairs. On the second floor, people worship of the family's ancestors and of Thien Hau Holy Mother. You will also find various handicrafts that reflect the culture and tradition of Vietnam in this house.
The architecture of Phung Hung house is the combination of Vietnamese, Japanese and Chinese styles. In the past, the house is shop trading in cinnamon, pepper, salt, silk, chinaware and glassware. Now part of the house is used as a workshop for making commercial embroideries.
Visiting Phung Hung ancient house, visitors can feel a bustling and exciting trading period of Hoi An urban area. If you have once visited this place, you will surely have a complete and meaningful trip to Hoi An.
Don't hesitate to pack your luggage, come and discover the amazing land. For more information please visit our family website:
For Vietnam online visa Govietnamvisa.com
For Vietnam local tours: Govietnamtourist.com
For exploring more parts of Vietnam:
http://www.vietnam-online.org/
(Visited 91 times, 1 visits today)