Hoi An, once a major Southeast Asian trading post in the 16th and 17th centuries, is basically a living museum that houses old-town architecture. Some notable heritage buildings include Chinese temples, a Japanese-designed bridge, pagodas, wooden shop-houses, French-colonial houses, and old canals. Although large-scale trading had long moved elsewhere, Hoi An has been successful in preserving and restoring its charming roots and was declared a UNESCO World Heritage site in December 1999.
Two great things about Hoi An's Old Town are that it is small enough to get around in on foot and the traffic is nowhere near as heavy as in bigger cities. Some of the streets only allow bike and motorbike traffic and some are pedestrian-only. These factors make Hoi An, even more, inviting for most travelers to Vietnam, especially those who have passed through frenetic Ho Chi Minh City (aka Saigon) or Hanoi.
Many buildings in the Old Town were constructed over a century ago and feature strong Chinese influences stemming from merchants from Guangzhou, Fujian, Chiu Chow, and Hainan. Some of the wooden signboards bearing the company names are carved and gilded in Chinese characters, reflecting the strong presence of the Chinese in Hoi An ever since its prosperous times.
Coming here, tourists can see a series of old-architectured lanes and houses with nearly 100% pristinely left from their initial buildings with mossgrown walls, deeply plain roofs, old furniture in their cristine past arrangement, etc.
While Hoi An's old-fashioned charm is always visible, on the 14th of every lunar month modernity takes another step back. Most premium oriental and western styles of architecture are found here, making a unique ancient Hoi An, absorbing all tourists who are eager for classic beauty! Even you are not classic styled, you still want to see how a lively ancient world can pristinely survive in this new modern and high-tech era!
The cuisine in Hoi An
Hoi An's delicacies are plentiful and particularly tasty and cheap. Let's take an example, one of the most popular ones – Cao lầu, a dish of rice noodles somehow closer in texture to the pasta. What is its secret?
It is the water used to make it, being collected from a special well in the city. The noodles are topped with slices of roast pork, dough fritters, and lots of fresh herbs and veggies. I think you should try one of these, or else you will soon regret it!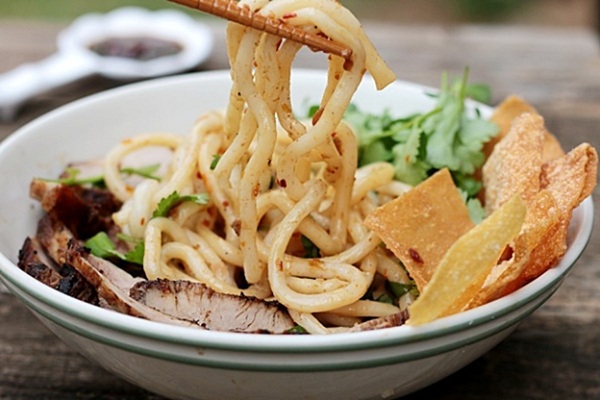 Let's see, you are sitting on stools, eating a bowl of Cao Lau with wooden chopsticks, and sipping ice cold "White Coffee with vinamilk"!
Besides this, visitors can try My Quang, Nem Nuong, Bun Bo, Banh Xao, Com Ga…make sure it will not make you disappointed.
Things to see in Hoi An town
Since Hoi An is an old Town, its places of interest are of full historically classical meaning and image. Hoi An's symbol, the most popular remnant is the Japanese covered bridge (Chua Cau or Lai Vien Kieu), on the west end of Tran Phu Street. The bridge was constructed in the early 1600s by the Japanese community.
Tourists should spend time on visiting Quan Cong Temple, Museum of Culture. Many ancient style-oriented architects come here to have a direct look into the ancient houses of the town, among which are Phung Hung House, just west of the Japanese Bridge, Quan Thang House, or Tan Ky House.
Today, Hoi An is also known as a shopping paradise that attracts tourists towards its wonderful souvenirs, handicrafts, antique pieces, silk materials, art paintings, and so on.
Don't hesitate to pack your luggage, come, and discover the amazing land. For more information please visit our family website:
For Vietnam online visa Govietnamvisa.com
For Vietnam local tours: Govietnamtourist.com
For exploring more parts of Vietnam:
http://www.vietnam-online.org/
(Visited 135 times, 1 visits today)