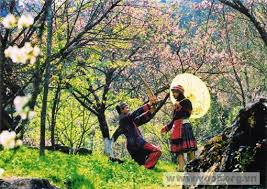 Take an overnight train ride from bustling Hanoi and you will arrive in the remote mountainous region of Sapa Valley, home to beautiful mountains and valleys, many minority hill-tribes and fascinating street markets. By escaping to Sapa you will find here real life and culture and pure relaxation.
Sapa Features
Sapa is an old French Colonial Hill station nestled amongst the highest mountain range in Vietnam, Hoang Lien Son which is close to the Chinese border. Sapa, a picturesque village, sits overlooking a beautiful valley, lofty mountains towering over the town on all sides. This market town is well known for its outstanding natural beauty and the variety of hill-tribes people that live in the area. As a destination it offers many adventure outdoor activities, cycling and trekking are the most popular of these. Sapa is one of the most enchanting of the Vietnam popular destinations.
Sapa is home to many minority Hill-tribe, visits and home-stays are a very popular activity in the Sapa region. One of the most well known hill-tribes in the area is the Black Hmong Hill-tribe, who frequent the villages throughout the area. There are six ethnic groups in Sa Pa, among whom the Hmong account for 52%, the Dao 25%, the Tay 5%, the Day (Giay) 2%, the Xa Pho 1%, and the Kinh 15%. The ethnic minorities are found in all communes in Sa Pa District although less live within Sa Pa town itself. Many communes contain a number of ethnic groups living in often separate villages. They have their own culture and customs and many tourists enjoying visiting and learning about their ways of life, by taking a tour or even arranging an overnight home-stay. By visiting the tribes people you will learn about farming techniques, how their wonderful garments are made and be treated to traditional hill-tribe fare and music, a fascinating experience, which will allow you to immerse yourself in how simple life can be. One of the aspect of local unique culture not to be missed is a visit to one of the numerous, hill-tribe markets. Each market has its own unique feel and is generally a place for the locals to get together to sell their wares and to socialize with friends and family, perhaps even meet a partner. Northern Vietnam is a fascinating experience. It is rich in culture and history and diverse in landscape Sapa is one of those rare places in Vietnam which have the ability to provide a glimpse of the tribal life as it existed a couple of centuries ago. If you do it right and stay in a Home Stay far away from the village, it will be an experience that you will remember forever.
Sapa Weather
The climate of Sa Pa is characterized by moderate and semi tropical features. The average temperature per year is around 15oC. In May it is summer with temperatures around 13-15oC at night and 20-25oC during the day. There can be occasional heavy rain. Visitor to Sapa in summer can feel the climate of four seasons in one day. In the morning and afternoon, it is cool like the weather of spring and autumn. At noon, it is as sunny and cloudless as the weather of summer. And it is cold in the evening. With no advance warning of a thunderstorm short and heavy rains may come at noon on any summer day. Subsequently, a rainbow appears, transforming Sapa into a magic land, which for years has been a constant source of poetic inspiration, lights up the whole region. Each season is usually symbolized by distinct and original products. Whatever season is Sapa in, this land always has its rare and distinct beauty. The weather in Sapa changes quickly within a day. For this reason, it is advisable to take a jacket or a pullover with you and for those used to more tropical climates a scarf, hat and gloves. Remember to bring your hiking shoes if you plan to do any outdoor tourist activity. A raincoat is always useful in Sa Pa to keep out the wind, fog and possibly rain. However if the weather is hot and sunny, don't forget the sun cream and your sun hat as the air is clear and sun-burn can be very painful. The best time to witness the scenic beauty of Sapa is in April and May. Before that period, the weather might be cold and foggy; after that period is the rainy season. In April and May, Sapa is blooming with flowers and green pastures. The clouds that settle in the valley in early morning quickly disappear into thin air.
Sapa cuisine
Not only famous for its natural beauty and landscapes, cool and fresh air, Sapa is best known for specialities that have attracted more and more tourists. Sapa cuisine mirrors the country's cultural and ethnic diversity. Sapa is home to sub-tropical vegetables: white cauliflower, reb beet, chayote… Boiled chayote consumed with sesame is a must to enjoy for visitors. Remember, it should be eaten while it's hot and it'll be tasteless if it's undercooked or overcooked. "Ngồng" or vegetable stock is always sold like "hot cake". There might be garlic or chayote stock and it's much tastier if it's cooked with meat. One of the other specility of Sapa is "xoi ngu sac" ( Five-colored glutinous rice ). To prepare xoi ngu sac, ethnic minorities use the leaves of a tree named "khau cam". The leaves are picked,cleaned boiled, filtered, and cooled. The sticky rice is washed and soak it in khau cam water for 5 – 6 hours . There are five sorts of khau cam which dye the rice kernels five colors. The khau cam yields a festive array of colors, while the glytinous rice preserves its natural fragrance. The xoi ngu sac is eaten by hand, and it it a sign of reverence to give someone a fistful of the warm rice. In the highlands, oftentimes the xoi ngu sac is paired with a hot slice of thit lap or smokey lap xuong . The result is a colorful and cozy meal: a bit of warmth shared in the harshness of the cold highlands . Visiting Sapa, tourists will also have chance to enjoy many kinds of wines such as San Lung Bat Xat, Bac Ha corn wine, rice made from cassava, and so on.
To get to Sa Pa from Hanoi people need to take a train to Lao Cai town and then a bus to Sa Pa. There are four trains running from Hanoi Train Station to Lao Cai Train Station daily: • LC3 Train departs at 06:15 AM and arrives at 15:30 PM • SP1 Train departs at 21:30 PM and arrives at 05:00 AM the next day • LC5 Train departs at 22:00 PM and arrives at 06:00 AM the next day • LC1 Train departs at 22:10 PM and arrives at 07:20 AM the next day There are four trains from Lao Cai to Hanoi daily: • LC4 Train departs at 10:20 AM and arrives at 19:35 PM • LC2 Train departs at 19:00 PM and arrives at 04:00 AM the next day • SP2 Train departs at 20:50 PM and arrives at 04:20 AM the next day • LC6 Train departs at 21:15 PM and arrives at 05:00 AM the next day The train between Hanoi and Lao Cai costs around 90,000VND or 6US$ (one way) for a soft seat (seat with cushion). A soft bed in a four-bed air-conditioned compartment is around 200,000 – 250,000 VND or 15US$ one way. A hard bed in a six-bed compartment is around 150,000 VND or 10US$ one way. In Lao Cai, one can easily catch a bus to Sa Pa. Buses cover the distance of 38km between Lao Cai and Sa Pa in about 60 minutes. On the way back from Lao Cai, it is advisable to take a bus no later than 17:00PM. Passengers can be dropped off or picked up at the hotel upon request. The bus between Lao Cai and Sa Pa costs around 25,000 VND (1.8US$) per single trip, or more if people have a lot of luggage. When you travel in Sapa, the best transport is walking to find out the beauty of this acient town.
Shopping in Sapa
Shopping in Sapa is a great experience which is emerging as the top shopping destination in the mountainous north. Most items are clothing, accessories and jewellery produced by the multitude of minority in the area. The largest is Bac Ha market, 80 Kilometres from downtown Sapa in the Lao Cai region, this market takes place every Sunday under the gaze of the nearby mountains and the border with China. Here you will see tribes people from all over the region and even from over the chinese border who come here to barter and trade. This is a very common sight at all of the markets in the Sapa region, a real cultural experience, where horseback is the mode of transportation of goods for sale. What is more interesting is that you trek down the hills and discover traditional markets of local ethnic minorities like Sapa market, Bac Ha market, Coc Ly market. Here you will have a chance to buy souvenirs from the local hilltribes themselves. They trek surprisingly long distances to gather here and sell you their hand – made nice items, most impressive of which are colourful clothes made of local fabrics (tho cam).
If you set off your trip to Sapa on weekends, Sapa market would provide you a deeper understanding of the local culture and lifestyle. Every Saturday and Sunday, local people, especially the youth, gather in the market to meet and get to know about each other through exciting songs for courting. You will hear flute tune, khen, dan moi which are local musical instruments and enjoy romantic melodies filling the night air. That's why Sapa market has another meaningful name – Love market. Foreign tourists often show their admiration for handmade pictures with vivid vignettes, harmonious beautiful colors. You will also have chance to enjoy the special wine of H'mong people in Pho village which is well-known for the typical strength and intense taste. The horse-selling area attract mainly men who come from remote villages, even from other provinces like Bac Giang, Ha Tay… do come here to purchase horses. Visiting Bac Ha market, you will not be invited consistently to buy their products, instead, you will find that people there are very friendly in traditional colorful clothes. They come to the kermis not only for business purpose, but also for entertaining, getting acquaintance with people there. In the afternoon, when people visiting the market start to scatter, you will catch the sight of a drunk man unsteadily riding on the horse's back and the woman take the horse back to the village, such image will last long in your mind as an unforgettable moment.
If you have interest in exploring more about the rites of ethnic minority groups there, try to visit these markets and many other markets near Sapa. Your knowledge of Vietnam culture in general and ethnic minority groups in particular will surely be improved once you have set foot to this remote mountainous region.
Vietnam warmly welcomes you to enjoy Vietnamese cuisine and to make your trip in smooth water, turn your plan into real by quick hands to obtain Vietnam visa at http://govietnamvisa.com and for Vietnam eTicket at http://vietnamairlines247.com.
For your memorable travel, it is convenient to book tour at http://govietnamtour.net
For your great stay and nice relaxation after a long trip, it is nothing better than booking hotel at http://govietnamhotel.com
(Visited 73 times, 1 visits today)