Speaking of cuisine, it must be an extreme tempting field that one must experience when setting foot on another destination. Ninh Binh  is not only famous for its beautiful with many tourist attractions but also for special and delicious food. The famous food here smell and taste with the flavor of limestone mountains where locals feed animals.
Rice crust ( Com Chay )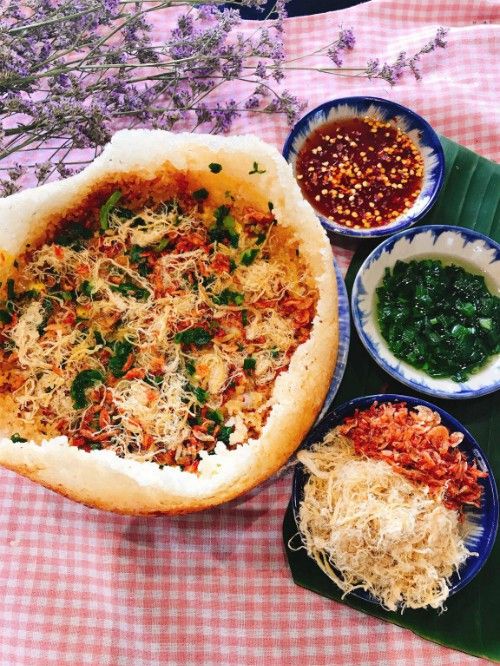 One of most famous food in Ninh Binh is rice crust. It is not luxury food but so yummy and attractive. To make this food requires a good cooking skills. We also need  experience in choosing ingredients, especially rice.
Com Chay should be supported heat by charcoal and during cooking , we keep suitable heat to create burned rice  with equal thickness around the bottom of the deep pot . It is one of the most difficult step in cooking. After that, burned rice is put out to dry in the sun several times  and preserved in fresh places to avoid mouldy state and keep its flavor. After drying, slices of steamed rice are fried in hot oil pan until they turn yellow and crisp.
The crispiness of the deep-fried rice and a little bit of spiciness from chili in combination with the salted shredded meat as the topping are a perfect experience of taste that a dish of common food can create.
2. Goat meat keep in husk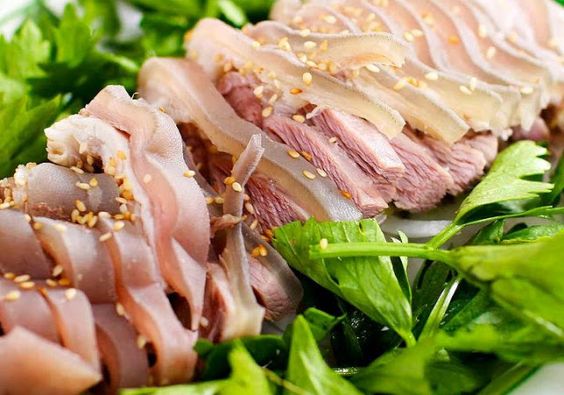 Goats Mountain after cutting the shaved clean hair, lemon leaves stuffed into the belly. Spread the goat body and burn the straw to set fire. Thanks to the heat of rice husk, goat meat will return yellow skin, to make a re-true meaning. Fermented rice husk finished not completely, no dehydration, when meat cut into small curls to eats soft and sweet.
3. Baked goat meat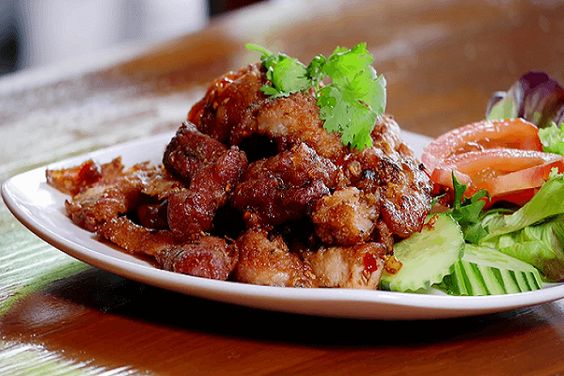 Goat meat cleaned, drained, sliced to eat. Mix sesame seeds and add some oil to fry and bring to the next. When eating satay mixed with Chao, eaten with perilla, basil, cinnamon … to feel the sweet taste of the dish.
4. Undercooked Goat meat with Lime
For its specialty, it is not coincident when goat meat is chosen as one special dish of so many places in the country and there is no exception when it becomes the main ingredient in the widely-known undercooked goat meat with lime of Ninh Binh province.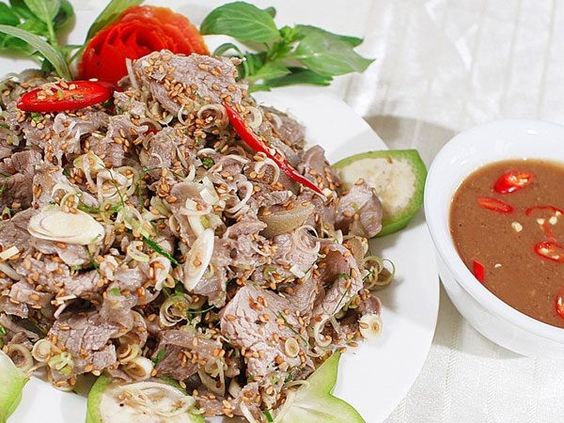 The main ingredients for this goat are fresh goat's meat, thick lean meat and skin, thinly sliced goat, dipped in boiling water for a while and squeezed with lemon juice, ginger, garlic, chili, pepper, lemon slices fiber … when eating green bananas, lemongrass, fig fruits and dots with soy sauce is very suitable.
5. Ninh Binh mountain Snail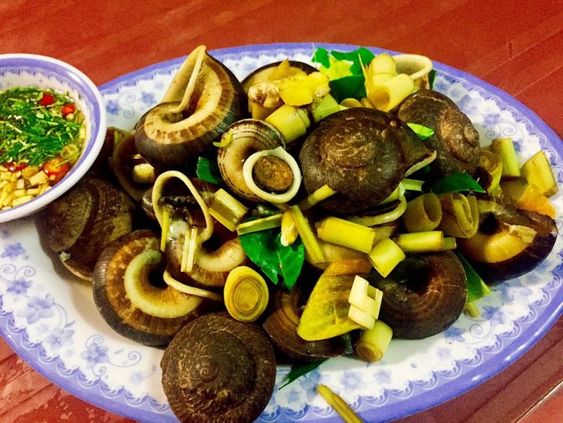 This kind of snail lives on the limestone mountain, this snail just appears from April to August, which very tough and crunchy because it eats the natural plants on the limestone mountain. There are many dishes from this snail but the boiled snail is still the most favorite dish. The boiled snail usually  be eaten with fish sauce.
6. Raw Nhech fish salad
In Ninh Binh, there is a province called Kim Sơn which is famous for a really special spring roll dish made of swarm eel. Nhech fish has curved shapes of eels but larger and longer. Nhech has much meat, less bone, lots of protein.
In order to make a delicious salad and attractive curved a meticulous process and sifted are emplemented by the chef. Nhech fish be rubbing with salt, or we can use ash, bamboo leaves, leaf or leaf imitation, slime wash off later bled before surgery and for a few stages to spicy fish meat more tasty. The first bite of Nhech salad will bring you the attractive aroma of roasted sticky rice, light sour of vinegar interjected to the spicy of ginger, garlic, pepper, chili and lemon grass. You will never forget this taste.
7. Sweet and Sour Anabas Soup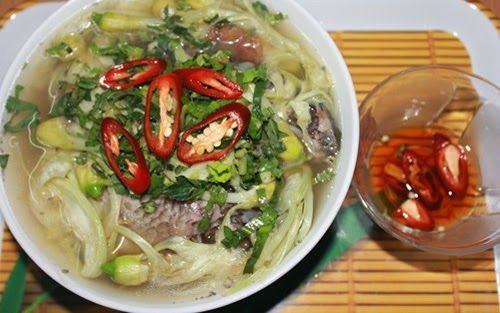 Despite being a quite common dish, sweet and sour anabas soup or broth is still a special dish that you may try when going to Ninh Binh. Fish is carefully stewed in the broth made of sour tomatoes and dracontomelum.
8. Yen Mac Fermented Pork Roll
Nem Chua  has a light pink color and a sour, sweet, salty and spicy smell and taste. Nem chua Yen Mac used to be a favorite food of Vietnamese King. It made from rustic ingredients, namely ground pork thigh, minced pork skin, chili, garlic, fish sauce, sugar, salt, those are mixed, pressed and then naturally fermented by tender fig or guava leaves.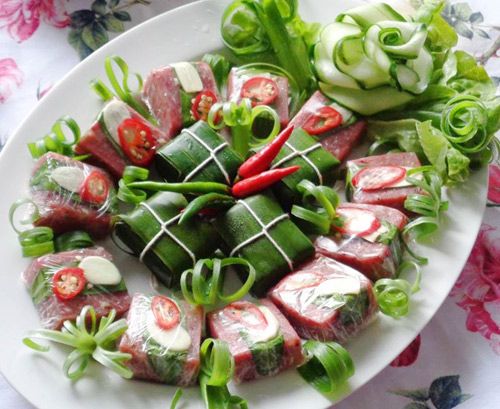 It has a very characteristic sour, acquired sweet, garlicky and salty taste with a nice crunch of pork rinds. While the fig leaf cover can be eaten with Nem Chua, creating a special acrid taste, the banana leaf cover makes its flavor more subtle and attractive.
9. Nho Quan Ant Egg Sticky Rice
Sticky rice may be a common dish in Vietnam that you can easily find in every street and the ingredients can vary from green beans, black beans to durian but there has never been any kind made of ant eggs so far, expect for that of Nho Quan.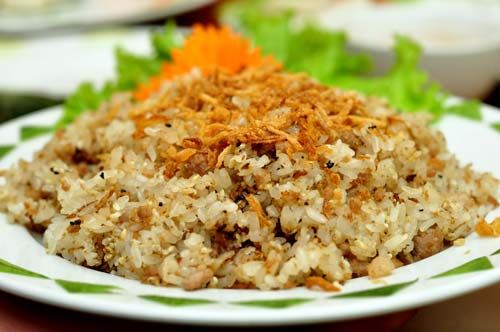 Ant egg sticky rice is definitely an unforgettable dish of Ninh Binh since strange yet absolutely delicious and very nutritious.
Processing and finding a strange ingredient like ant eggs are not easy, that why it is so unique and is " hunted" by many visitors both foreign and local in Ninh Binh.
10. Roasted Field Crab With Betal Leaves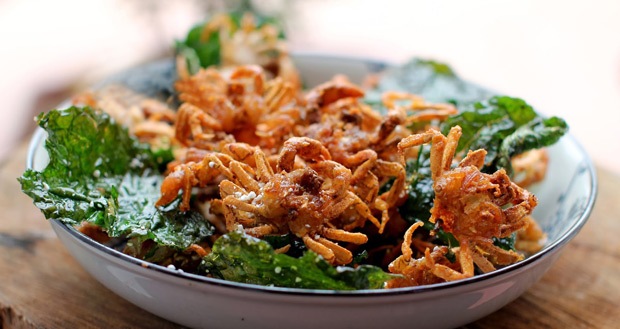 Roasted field crab with wild betal leaf not to be missed when you plan to travel to Ninh Binh. The crispiness of field crabs melting in mouth after bites in the combination with the special sweetness of betal leaves is just right to melt even the coldest hearts. The dish is especially suitable to enjoy with rice but in general, you can try it with anything that you like because I can ensure it will not disappoint you in any case.
Vietnam warmly welcomes you to enjoy Vietnamese cuisine and to make your trip in smooth water, turn your plan into real by quick hands to obtain Vietnam visa at http://govietnamvisa.com and for Vietnam eTicket at http://vietnamairlines247.com.
(Visited 65 times, 1 visits today)