Mangrove apple fruits and flowers have long been introduced into Mekong Delta cuisine through rustic dishes but not less attractive.
Mangrove apple is a typical plant in Mekong Delta. It lives in muddy substrates.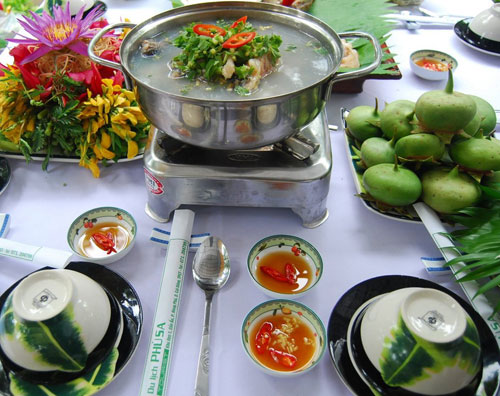 Mangrove apple fruits are used for hot-pot
Annually, mangrove apple blooms in June to September (lunar calendar). Green mangrove apple fruits have sour and acrid flavor, when ripen, they have sour, sweet, and fragrant flavor. Once taste, will never forget because its flavor is very unique.
Mekong Delta people usually use both its flowers and fruits to process it into rustic dishes. Its flowers are used for salad of pork meat or seafood. This kind of salad is considered a specialty in Cu Lao Dung, Soc Trang.
Particularly, sour mangrove apple fruits are used as raw vegetable, served with shrimp sauce, etc. the sour and acrid flavor together with strong taste of fish sauce creates a typical flavor that can not be found in other fruits.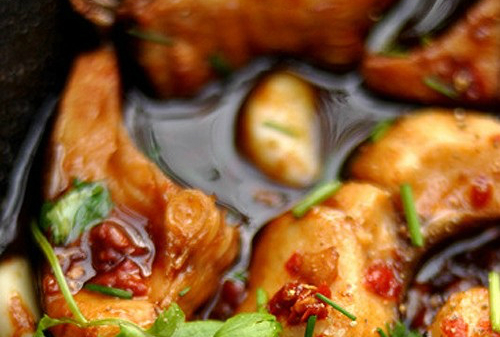 Cooked fish with ripen mangrove apple fruits
Ripen mangrove apple fruits are used for sour soup. When ripen, it will be softer and more watery, pour it into soup pot, then added with fish, cabbage, and coriander. Or you can use ripen mangrove apple for cooked fish dish. Such these two dished have effective of reducing the heat on summer.
In some Southeast Asia countries, they use its leaves and buds for salad. In the Philippines, coastal people use ferment mangrove apple fruits into vinegar.
Nowadays, as modern manufacture, we can easily see mangrove apple juice and jam for sour hot pot and dip with boiled meat. Bottled dishes are both hygiene and convenient for tourists as a gift for their relatives and friends.
Because special effectives in cuisine in particular and in manufacturing section in general, mangrove apple becomes a special fruit imbued with regional flavor.
Vietnam warmly welcomes you to enjoy Vietnamese cuisine and to make your trip in smooth water, turn your plan into real by quick hands to obtain Vietnam visa at http://govietnamvisa.com and for Vietnam eTicket at http://vietnamairlines247.com/.
For your memorable travel, it is convenient to book tour at http://govietnamtour.net
For your great stay and nice relaxation after a long trip, it is nothing better than booking hotel at http://govietnamhotel.com
(Visited 597 times, 1 visits today)