Pho – Special traditional dish
Pho is a traditional dish of Vietnam, can also be considered as one of the most typical dishes for Vietnamese cuisine.
The main ingredients of pho are pho noodles and broth (or broth as the Southern way) with thinly sliced ​​beef or chicken. Also comes with spices like: soy sauce, pepper, lemon, fish sauce, chili, etc. These spices are added according to each user's taste. Pho is often used as a breakfast dish, or for dinner. In the southern provinces of Vietnam, pho is served with an ingredient called aromatic herbs such as onions, bean sprouts and coriander leaves, basil, in which coriander is the typical leaf of pho. Pho is usually beef noodle soup, but also chicken and pork noodle soup.
The broth is generally made from beef bone stew, the meat used for pho is beef or chicken and spices including cinnamon, anise, ginger, cardamom, clove, coriander, etc. "Pho", traditionally made from rice flour, is spread into thin sheets and then cut into fibers.
Origin and difference
In Vietnam, there are names to distinguish them: Pho Bac (in the North), Hue Hue (in the Central) and Pho Saigon (in the South). Normally, the North of Pho is characterized by salty taste and the South is sweet. Pho in the south is smaller than in the north. Previously, only beef noodle soup with full "nine-corn-encrusted-bucket", later, diners accept both re-Pho, chicken noodle soup.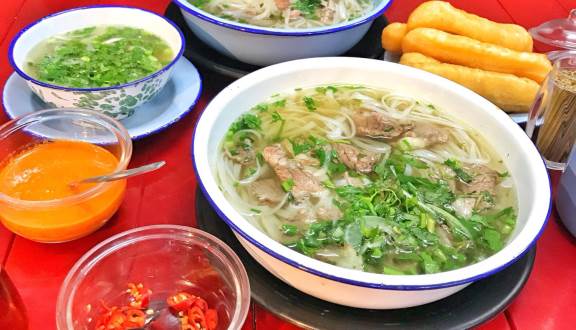 Culture of eating pho
Vietnamese pho restaurants still keep the habit of rarely bringing menus to customers but customers will have to choose what kind of noodle (for example: beef pho, chicken noodle, etc). Pho is contained in a bowl. Normally, the tables are numbered to serve, on which are available chopsticks, spoons and condiments with pho such as soy sauce, lemon, fish sauce, chili.
Pho is an the best food that you can not miss if you come to Vietnam.
We warmly welcome you to Vietnam, turn your plan into real by quick hands to obtain Vietnam visa at http://govietnamvisa.com .
For your memorable travel, it is convenient to book tour at http://govietnamtourist.com
For your great stay and nice relaxation after a long trip, it is nothing better than booking hotel at http://govietnamhotel.com
(Visited 152 times, 1 visits today)